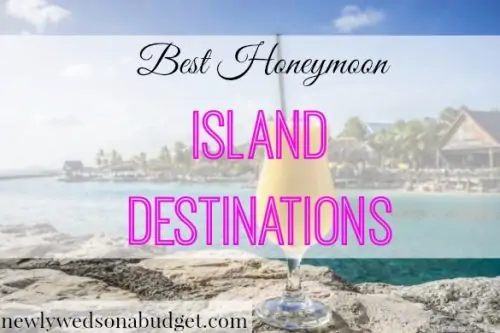 Whether you spend several months planning a wedding, have a small gathering, or elope, you're going to feel tempted to book a
relaxing honeymoon getaway
to celebrate your new marriage.
This is what my husband and I did but on a budget. I'll share how we were able to pull off a luxurious honeymoon in Jamaica for cheap next week.
Your honeymoon can be anywhere, but if you're looking for relaxation, good weather, and beautiful beaches, you should choose an affordable island to visit. Here are 4 of the best honeymoon islands to choose from.
Why Should You Honeymoon on An Island?
Because islands are awesome! I could have just ended it with that 🙂
If you are looking for the perfect balance between adventure and pure relation, I think enjoying your honeymoon on an island is best. Everything seems to move much slower when you're on an island and there' still plenty of attractions to check out whether it's a natural landmark, a big city, or a historical must-see.
Getting married is such a life-changing experience and if you're jetting off to a honeymoon shortly after your wedding, you want to be able to soak everything in without feeling super overwhelmed about traveling and having a busy itinerary.
There are islands all over the world to accommodate your budget and preferences.
1. Puerto Rico
Peurto Rico is a popular destination in the Caribbean. Since it's a U.S. territory, flights to Puerto Rico are going to be more affordable than other nearby islands. San Juan is a great area for couples. It has sandy beaches, rain forests, casinos, shopping malls, and plenty of water activities to enjoy.
2. Jamaica
Jamaica is a beautiful island to visit for your honeymoon. In fact, it's where my husband and I spent our honeymoon. There are a lot of chain hotels in Jamaica with affordable rates. We chose one that was all-inclusive so we wouldn't have to worry about too many extra costs.
There is also lots to do and see in Jamaica. Montego Bay is a great place to start, but some of the attractions are spread out so you'd need to hire a taxi driver if you plan to do lots of sightseeing.
3. Curacao
Curacao is a small island with a lot of historical appeal. The main port city, Willemstad, is filled with Dutch-style architecture and rich in culture.
The beaches are home to marine life which is great for snorkelers and scuba divers. Temperatures are in the mid-80s all year round so you can plan a flexible honeymoon getaway and the island itself if sheltered from the Atlantic's harsh hurricane season.
4. Barbados
Barbados is a true paradise with white sandy beaches and enough rum to last a lifetime. This island is a perfect destination if you and your spouse want to relax, swim, and take in some breathtaking views at the beach and get active by participating in water sports and popular local sports like golf.
Away from the beach, travelers can visit historic homes, tour famous caves, and try delicious food.
Have you ever been to any of these islands? Which one would your choose as the ultimate honeymoon destination?