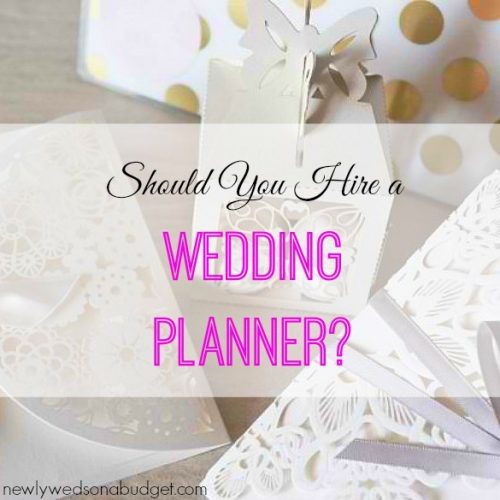 Given the fact that planning a wedding can be a stressful process, hiring a wedding planner can seem like a smart move. If you want to have a nice wedding but you're overwhelmed with everything and don't have the time to focus on the little details, a wedding planner can certainly hold your hand throughout the entire process and offer you their industry expertise and creative ideas and concepts.
Plus, I'll admit, it sounds nice to be able to pass things off to someone else when you don't feel like doing it. However, that comfort and convenience come at a price.
Here's why I chose not to hire a wedding planner.
It Saves Money
Obviously, the main reason why I chose not to hire a wedding planner was because it would save us money. Wedding planners are not cheap for the most part. There are different types of wedding planners based on your needs so costs will vary. If you want a wedding planner for the day of your event, you can expect to pay $1,000 on the low end and $3,000 on the high end.
Given the fact that my entire wedding was under $10k, that was just out of the question. Full-service wedding planners can cost anywhere from $5,000 – $10,000 depending on your needs and area. Some wedding planners charge by the hour while others charge a flat rate.
In all honesty, my husband and I couldn't afford a wedding planner but if we could have, I still wouldn't have paid for one. There were other expenses we were happy to pay for in terms of our wedding because we valued them more. It's not that wedding planners aren't valuable – I'm sure they do amazing work.
For me, I just didn't feel like the service was worth the extra money that could have been used elsewhere in our budget.
I'm a Control Freak
Another reason why I chose against a wedding planner was because I like to plan everything myself and I'm somewhat of a control freak and a perfectionist. Since I already knew what I wanted and had high standards, I really didn't need a wedding planner's input.
I also had a bit of help on my end. I had several bridesmaids including my sisters and I assigned them tasks to help me during the planning process. My mom and mother-in-law also pitched in with tasks too and I hired a friend to do my flowers for cheap.
My Husband and I Are Simple
Hiring a wedding planner sounded too formal for my husband and me who consider ourselves just plain old folks. We wanted a beautiful wedding, but we're not super picky and fell in love with the first venue we saw and put a deposit down.
I wasn't having a field day over centerpieces either or even our menu at the reception. As long as the food was good, we were pleased.
We just wanted to get married and enjoy the day together. I felt like a wedding planner would disrupt our need for simplicity with a ton of complex ideas, pricey recommendations, and 'hot trends' of the season that we must try out. Again, we didn't care about any of that and I knew what I wanted so I didn't need options.
We Chose an All-Inclusive Venue
I'm a big advocate for all-inclusive venues because they do almost everything. Since we were having our ceremony and reception at the same place and the venue price included the reception dinner, cake cutting, and basic decor, it really put me at ease and I didn't need to organize any of the extra things like transportation from the ceremony to the reception.
Thus, hiring a wedding planner would have been a waste of money. The venue we had our wedding at also provided us with a day-of coordinator. She didn't go above and beyond like a wedding planner would have, but she was around to help us with basic things to stay organized throughout the event.
So, Should You Hire a Wedding Planner?
Now you know why I didn't hire a wedding planner, but should you? It all depends on your needs and your budget. If you can't afford a wedding planner, then it's probably out of the question.
You'll have to use alternative methods like asking your bridal party to help you out along with family members who want to contribute.
If you're having a small wedding, you might not need a wedding planner.
In general, planning a wedding is hard work and it's easy to forget about things or witness something going wrong. I can't even imagine how many things went wrong on my wedding day like the fact that I was so anxious and all over the place that I walked down the aisle without my bouquet because I forgot it in the bridal suite.
Planning a wedding takes lots of time and effort. I planned mine while I was working full-time and freelancing and blogging on the side. Yet and still, I tried to make the best of it and the fact that we had a smaller engagement helped.
When it comes down to it, determine your needs and your budget to help you decide then choose what you think is best.
For ways to save while planning your wedding check out these great articles.
How to NOT Spend $30k on Your Wedding Day
How to Get Free Stuff for Your Wedding
5 Ways to Save Money on Wedding Invitations
Have you ever hired a wedding planner or would you?