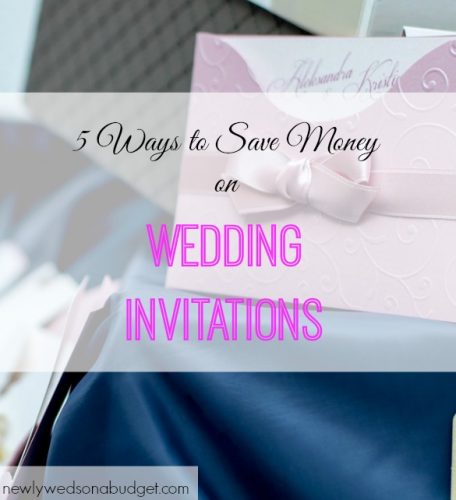 Designing your wedding invites can be a fun process. However, depending on how many invitations you're sending out, it can get quite expensive.
Wedding invites aren't the only paper ware you'll need if you're having a traditional wedding. You may also need response cards so people can RSVP, programs, place cards for the reception, and 'Thank You' Cards.
According to the Bride Guide, all of this can cost you around $750 before postage while 150 invitations and response cards will cost you about $245-$300.
That's a lot of money to spend on something that people will just throw away or lose after your wedding day. I hate to say it, but some of your guests will just throw the invitation, programs, etc away after or even before your wedding.
It's understandable that you might want to cherish these documents for memories, but there are quite a few different and more affordable options to consider when sending out wedding invites.
1. Ask for a Discount and Shop the Clearance Section When Ordering Invites
If you want to send out traditional wedding invitations and have a professional design them for you, there are plenty of boutiques that will do this for you. It may cost a pretty penny, though, so be sure to ask for a discount and consider using any designs they have on sale.
My husband and I were lucky to win a contest that I signed up for at a bridal expo that allowed us to get professionally designed wedding invites for 50% off. If we didn't get a discount, we probably would have chosen another option.
If you are sending a lot of invitations or plan on purchasing an additional item like programs from the same supplier, don't be afraid to ask if there are any discounts or sales they can offer you.
2. Avoid Pricey Paper and Glossy Finishes
Sometimes extra touches like a matte or shiny finish can be nice, but it's not always necessary especially if you can't afford it or have other expenses to cover that you deem more important.
People may ooh and ahh at the packaging and details on your invites but then they will get over it, jot down the details for your big day, and forget all about it. I was taken back when I spoke to my uncle before my wedding and he told he hadn't even opened the invite to look at it yet.
Let your design speak for itself and use regular paper without any special finishes if they are going to cost you an arm and a leg.
3. Make Your Own Invitations
You can always go the DIY route with your invitations to save money. You can design your invites for free on sites like PicMonkey and Canva. Then you can print copies at your local Staples store.
You can also design invitations on VistaPrint and ship them to your home. Wedding invitations start at just $0.39 each.
4. Buy Invites at a Retail Store
Stores like Walmart, Target, Michael's Crafts, Party City and Hobby Lobby tend to have wedding invites that you can purchase and either fill in with your information or customize the design on your computer so you can send them to guests.
The designs are little more generic, but they still look nice especially if you don't have a specific theme in mind.
Walmart has a wedding stationary tool on their website that allows you to choose from one of their basic designs and customize it. Wedding invites that are customized start at just $0.99 each.
5. Send E-vites
Want to avoid paying for postage and printing paper invitations altogether? You can send an e-vite to all your wedding guests and save a ton of money.
This option would work best is all of your guests have email addresses and check it regularly. You wouldn't want your message getting lost in their spam folder or buried by other emails so it would be best to follow up to make sure they received it.
Nevertheless, you can send a pretty invite straight to everyone's inbox with all the details of your wedding for free and cut hundreds of dollars from your wedding budget in the process.
For more ways to save money on your wedding without sacrificing anything check out these other great articles.
How to NOT Spend $30k on Your Wedding Day
How to Get Free Stuff for Your Wedding
Should You Hire a Wedding Planner? Here's Why I Didn't
Which one of these methods would you be willing to try when saving money on wedding invitations?