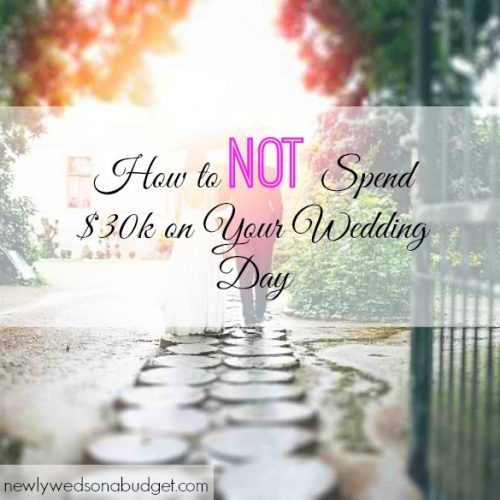 I'm sure most people would agree that their happiness is priceless. This would make you think that some important milestones in life shouldn't require any monetary limitations.
Unless money grows on trees in your world, I'd disagree with that thought process.
Your wedding day will be one of the most special days in your life. You want to do it right, and may not want to penny pinch which is understandable.




However, that doesn't mean you need to spend $30,000 on your wedding day which is the average cost of getting married if you plan a traditional wedding these days. While society says that's a normal price to spend, you might not have that much money on hand.
Taking out a loan, maxing out your credit cards, and getting into debt to pay for wedding can also sting regardless of how happy you are on your wedding day.
There are plenty of ways to avoid spending $30,000 on your big day. My wedding was under $10,000 and I explained how we pulled it off in this post.
Here are some additional tips and strategies to help you save big too.
1. Consider Where You Want to Get Married
The location of your wedding plays a major role in the over costs of the event. If you want to get married in downtown New York City, you're probably going to drop a pretty penny to book a venue there.
However, if you choose to go out to a rural area and have a rustic barn-themed wedding, you could save quite a bit of money. If the weather is nice, you could even plan a backyard wedding at a friend or family member's house or you can get married at a local park with beautiful scenery.
The choice is up to you. While it sounds romantic to get married in Paris and take pictures with the Eiffel Tower in the background, it really boils down to your relationship with your partner and how you both feel about each other on your wedding day.
2. Be Careful When Planning Your Menu
If you're going to feed guests at your wedding, be ready to drop some extra money down. If you want to minimize costs, you can have a brunch wedding, since breakfast and lunch food is much cheaper. Or, you can serve snacks and hor d'oeuvres during the day and end the reception around dinner time so people can eat elsewhere.
You can also do what I did and have a buffet-style dinner at the reception. Having tasty food at our reception was a must, but my husband and I knew we didn't have to serve seared scallops and filet mignon to provide people with a tasty meal.
We focused on practical foods and classic dishes that everyone could eat and made sure to include vegetarian options. We wanted to eat good, but weren't trying to give people the best meal of their lives or a 5-star dinner on our dime.
3. Stay Away From Designer Stuff
The name behind the product is everything in the wedding industry. Vendors mark up items just because it's a famous designer's product. I'm all for making quality purchases, but I decided not to play that designer game that the wedding industry loves so much.
When it comes to attire, the groom usually rents his tux and the bride only wears her dress once…during her entire life. Plus, if you do purchase some fancy designer gear, no one will even notice. You can save so much money by just shopping based on style and comfort, not the designer brand.
4. Prioritize Your Values When It Comes to the Little Things
When it comes to everything else, make a list of what you value and what you could care less about. If you know you are very hands on and have high expectations, don't try to plan your wedding to impress other people because you will always fall short.
Even if you plan the most beautiful wedding with all the bells and whistles, most people will love it and may envy you, but there's always a few who will complain and pick little things apart regardless of all the hard work and effort you put in.
That's why if you're planning a traditional wedding with guests, consider their comfort level but also focus on what you and your fiance want most.
If you don't want to spend $2,500 on stationery, don't do it. If you don't care for flowers, leave them out or mix fresh flowers with artificial ones to save money. If you'd rather have barbecue at your wedding reception over the flavorless roast beef a local caterer is offering, arrange to have the food you want. I've written quite a few posts with helpful hacks to help you save on your wedding. Some of these include:
When you cut out what's not important, it frees up more of your money for what is important. That way, if you want to spend $2,000 on a DJ for the night, you can afford to do it.
How would you cut costs for your wedding day?