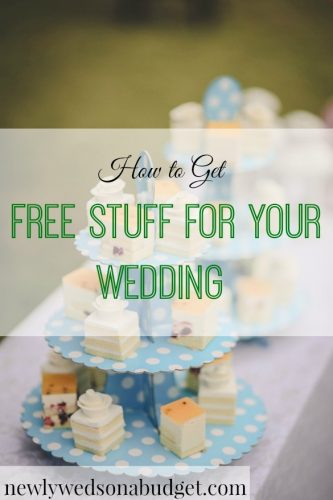 Last week, I talked about how my husband and I pulled off a
frugal dream wedding
and spent remarkably lower than the average price for a wedding. Part of the reason why we were able to pull off such a frugal wedding was due to the fact they we received some freebies and discounts.
Let's face it, everyone wants free stuff for their wedding. I'm excited to share 4 real ways to get free wedding stuff so you can save money.




1. Ladies, Attend Bridal Expos
When I first got engaged, I started searching for fun bridal events to attend with my bridesmaids so they could all meet each other. I heard about a local bridal expo that would include dozens of wedding vendors and a fashion show.
I thought it would be fun to check see the fashion show and connect with lots of vendors to see which services I'd like to choose for my wedding. There were tons of giveaways and raffles at the expo. I figured that was because a lot of vendors wanted to collect email addresses, but I was also interested in winning some prizes so I signed up.
I ended up winning a raffle and received a free hand mixer – something I really needed since I love to bake. On my way out, I stopped by a tux rental company's booth to get information for my husband. I ended up signing up for their giveaway and found out a week later that I won the grand prize which included a free tux rental for the groom, discounts on tux rentals for the groomsmen, a 50% discount on wedding invitations and a free suit for the groom to keep.
It was a big relief financially that my husband didn't have to pay to rent his tux and also got a free suit out of the deal. I also loved the invitations we purchased along with the generous discount. After my success at the bridal expo, I went to two more and met with more vendors and tried great food. I won a wedding veil at my second expo and connected with a great rental company at the third expo.
Most wedding expos are usually free for the bride-to-be and a few guests and there are so many giveaways so you really don't have much to lose. I'd recommend attending a few free bridal expos in your area to see what you can win.
2. Exchange a Service for a Freebie
If you have a marketable talent or service you can offer, try negotiating with a wedding vendor to see if they'll provide you with a freebie in exchange for your service.
For example, since I'm a writer with web development experience, I could have offered to write a batch of professional blog posts for a wedding vendor or I could have optimized a company's site for SEO or helped them develop a newsletter in exchange for a free product or service.
Some places may have policies against bartering like this but other smaller or home-based wedding vendors might not mind an equal exchange. The opportunities are endless and you never know unless you ask.
3. Bundle the Products and Services You Purchase
If you need to purchase or rent a large quantity of something, you may be able to receive some of the items for free. This methodology worked well when planning my wedding because we had a large wedding party.
Even though I won my husband a free tux rental and discounts for all the guys, the formal wear company had an offer that allowed every 5th tux rental to be free and they let us bundle that deal with the prize I won. As a result, our son's tux rental was the free one so we didn't have to pay for his wedding attire either.
4. Download/Register for Freebies Online
If you are looking for specific freebies for your wedding, you might want to order some free samples from vendors and retailers you like and sign up for any offers that appeal to you.
Some stores provide free items when you create a wedding registry with them while others will send you free samples of products, along with coupons and discounts to apply if you decide to make a purchase. This post highlights a ton of free wedding-related freebies you can take advantage of.
For ways to save money on other things for your wedding check out these articles.
How to NOT Spend $30k on Your Wedding Day
5 Ways to Have a Fun and Frugal Bachelor Party
5 Ways to Save Money on Wedding Invitations
Have you scored anything free for your wedding?