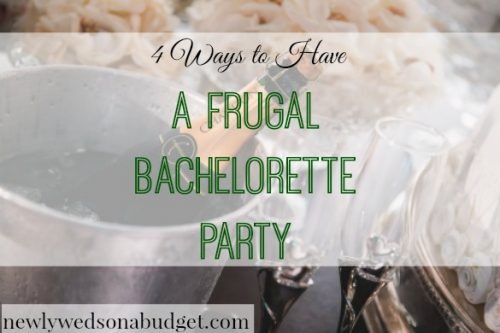 Being a bridesmaid or maid of honor comes with a great deal of responsibility. You are not only responsible for helping the bride plan her special day, you are most likely also in charge of planning and executing an awesome bachelorette party that the bride will remember and cherish for years to come. No pressure.
It's no secret that weddings are expensive not only for the bride and groom, but also for the wedding party as well. Everyone has their own unique budget and in order to respect everyone's needs, it's best to have a frugal but fun bachelorette party.




Here are 4 ideas to help you plan a frugal and fun bachelorette party.
1. BYOB Wine Tasting Slumber Party
When was the last time you and your friends had a good old fashioned sleepover? Sleepovers with your group of friends when you were a girl might have been fun, but when you're an adult, they can be even better because you'll get to include alcohol.
Invite all the bridesmaids over and ask them to bring a dish or snack to pass along with a bottle of wine so you all can have a BYOB wine tasting and compare the different flavors. You can also bring movies and games for entertainment along with beauty products to pamper yourselves while you talk about the bride and her big day and share memories and stories together.
2. Live Show or Comedy Club
If you'd prefer to take the bride-to-be out on the town for her last single night, look into live performances in your area in order to score a deal. You can attend a live performance from a music group, take a line dancing class or even visit a comedy club.
For my bachelorette party, my bridesmaids and I headed to a comedy club after a barbecue I hosted beforehand. I found some great discounts on Groupon and it really lightened the financial burden for my sister who was my matron of honor. I had about 9 bridesmaids so an outing for all of us could have gotten quite expensive, but I'm glad we scored a great deal thanks for Groupon.
3. Weekend Getaway at a Water Resort
This option might sound expensive, but you can actually make it pretty affordable. When I went on my honeymoon to Jamaica, I ran into a group of girls who were celebrating their friend's last fling bachelorette-party-style. In the back of my head, I wondered how they could afford to pay for the expenses associated with being in a wedding and take a tropical vacation just for the bachelorette party alone. Then it dawned on me, there was a handful of girls and the more people who joined in, I'm sure the cheaper it was.
You don't have to fly the bride-to-be away out to the Caribbean for a few days, but there are probably plenty of hotels and water resorts in your state that will allow all the girls to enjoy a mini getaway and indulge in some pool and spa time.
Take Wisconsin Dells for example. While it is a popular family destination, there are plenty of resorts and activities geared toward adults whether they are celebrating an anniversary, birthday, or wedding. There are dozens of resorts to meet the needs of your budget and even if you have 3-6 girls on average, you can split everything down the middle and save big.
To pull this off, first see what your options are and compare pricing from different resorts and hotels. Ask all the bridesmaids who would be willing to chip in and what their budget would be. Then, you can plan a fun night or two that doesn't break the bank.
4. Bar Crawl Scavenger Hunt
Going out of drinks is a common tradition with bachelorette parties. Why not switch it up by organizing a fun wedding-themed scavenger hunt bar crawl? I'm sure you'll need some assistance from local bar staff members to pull this off, but there is a nice nightlife area in your town then why not? A bachelorette party bar crawl/scavenger hunt helps bars in the area get more business and it will be a blast for the bridesmaids too.
Use your creativity to organize the bar crawl however you like. You can pick out certain drinks or shots to try at specific bars, hide wedding-themed items in plain sight, or come up with clues and challenges to involve the entire group.
These are just a few fun bachelorette party ideas to help get your creative juices flowing. So now I want to hear from you. What ideas do you have for a fun bachelorette party or which one of these options would you be most likely to try?