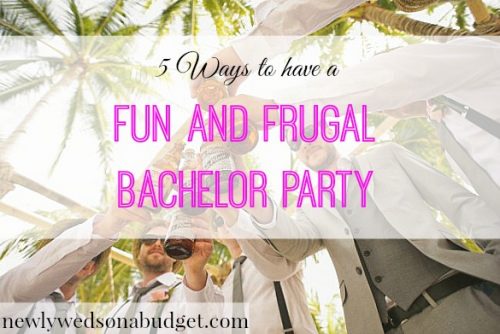 One of the most enjoyable parts of the
wedding planning process
is getting to the bachelor/bachelorette party festivities.
I definitely had a fun and frugal bachelorette party and my husband even had two bachelor parties and didn't have to spend an arm and a leg. If your groomsmen are on a budget but still want to enjoy your final bachelor days with you, here are 5 ideas for having a fun and frugal bachelor party.
1. Karaoke Night
This is definitely a funny bachelor party idea that will leave your groomsmen with tons of hilarious stories for years to come. Karaoke bars are always fun whether you're sharing your vocal talents with the world or watching others jam out to their favorite songs. Consider going on a night when there are drink or cover specials and hang out as long as you want.
2.Arcade Fun
My husband is kind of a big kid. He had one of his bachelor parties at an arcade near our home. He met up with his groomsmen to eat, then they went to the arcade and played laser tag against each other and other games at the arcade. Then, they finished off the night at the casino which wasn't as expensive as it sounds if you're just walking around and playing cheap slots for fun. Plus, most casinos have free drinks.
All in all, I was a little jealous after hearing about all the fun because arcades can be a blast for adults too. Many arcades have bars in them that are open each night and you can even add bowling to the agenda if the arcade has a bowling alley.
3. Sports Theme
Schedule your bachelor party on a huge game night. Then, you can either invite the guys over for good and drinks, or bar hop around the neighborhood.
Another option would be to see a game in action. If you can't afford tickets to a professional game, try a local college game where the tickets will be much cheaper.
4. Comedy Show
Get your laugh on at a comedy show if you're looking for funny bachelor party ideas. Just don't sit in the front row or the stand-up comic might make you and your friends the butt of their jokes.
Most tickets to comedy shows are affordable no matter who is performing that night. Make sure you call ahead and tell them that you are planning a bachelor party and see if they will offer a group rate. Most places have discounted rates for bachelor and bachelorette parties especially if you are bringing a lot of people with you and they may even reserve your seats.
It never hurts to ask.
5. Road Trip
If the ladies can jet off to Vegas on a dime, you can have an affordable weekend getaway too. If everyone pitches in, a road trip might not be so pricey. You don't have to go too far, but maybe you can check out an event in another town or state like a sports game, concert, or even visit a friend.
If you have groomsmen who live out of state, it might be fun to have your bachelor party in their area so you can travel for cheap and see some different attractions.
When it comes to traveling on a budget, it all depends on timing and where you go. Avoid the pricey destinations and touristy areas and you should be just fine.
Bottom line, as long as you're with your good friends, you should have fun no matter what. If anything, let your groomsmen know what your budget is and have them plan everything so you can focus on preparing for your big day!
To keep the fun and frugalness going check out these awesome articles.
How to Find the Perfect Groomsmen Gift
How to Get Free Stuff for Your Wedding
How to NOT Spend $30k on Your Wedding Day