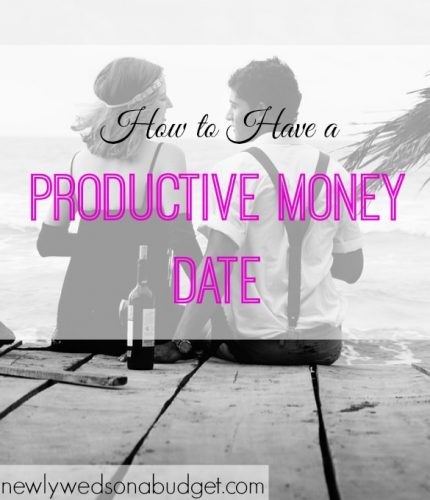 Money dates or budget meeting are important for couples and crucial for marriages. My husband and I have been having money dates for almost a year now and we've noticed so much progress in terms of our financial situation.




We've been able to get on the same page financially, avoid money-related arguments, and pay off a ton of debt.
While money dates are a great idea for your financial health, they need to be executed the right way in order for you to maximize the benefits. Here are a few things you need to do to ensure you have a productive money date.
Decide What You Want to Discuss Ahead of Time
This should go without being said, but before you sit down together for your money date, you really want to establish an idea of what you'd like to cover and where the conversation should go.
Start by choosing financial goals together if you haven't already and determine which area of your financial situation needs the most help and attention right now.
For us, it was debt and controlling our spending. Therefore, in the beginning, most of our money involved us talking about these issues.
Your money date can also be a great time to praise your partner or discuss any recent wins so don't condemn this time to struggles only.
Get Organized
The key to a productive money date is being organized. You don't just want to talk and get on the same page, you want to record things, have data on hand so you can refer back to it, and have a good idea of what you covered last time.
My husband and I used a shared Google document to organize our money dates and it's the best organization tool I can recommend to couples. We can both access the document on-the-go from our phones and update it when need be.
In the document, we have tabs that list our joint financial goals, track our debt repayment progress, record our income from month-to-month, and show our monthly budgets.
Getting organized will allow you to see the full picture and eliminate any confusion.
Be Open-Minded
During a money date, you want to be open-minded to your partner's ideas and feedback and be willing to make changes to help you get closer to your goals.
Your money date should provide a vulnerable and non-judgemental space where you both can share your thoughts and ideas freely and understand each other.
To ease my partner into the idea of having regular money dates with me, our first one was at an ice cream shop to ease the tension and now we mostly have them at our kitchen table.
If I feel like my husband's spending habits have been bad lately, I'll bring it up in a respectful way during our money date to draw attention to the issue.
Make It Timely
Another thing you want to do with your money dates is stick to a consistent schedule. Choose a time when you and your partner will be able to provide your undivided attention and focus on the task at hand.
We have money dates ever two weeks in the evening and schedule them so we can come prepared with any updates or new ideas.
Focus on Solutions and Accountability
Finally, you want to focus on solutions and accountability. Be sure to hold your partner accountable each meeting and check in on your goals together. You'll both be more motivated to make progress when you know that you'll have to answer to each other during the next money date.
Also, remember that money dates are not about tearing each other down and only highlighting the bad things. They are about getting on the same page along with identifying problems and finding solutions together.
You need to be able to put your heads together and solve your money problems together, then enjoy the benefits of all your hard work.
Have you ever had a money date before? What do you think would make money dates most productive?