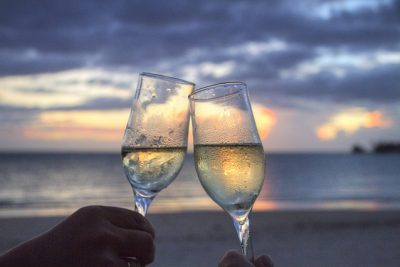 If you're a newlywed or just about to get married, you're about to experience a really exciting time in your life. You've planned your wedding, everything will or has already went off without a hitch, and now it's time to relax and enjoy your honeymoon.
It's sometimes difficult to come up with enough money to pay for a fantastic honeymoon after you've spent so much on your wedding. On average, the typical wedding costs around $32,000. If your parents aren't paying for it, the money has to come out of your own pocket.
Where do you get money to pay for your honeymoon? In many cases, using crowdfunding to raise money for your honeymoon is the right way to go. We'll share our favorite tips to make crowdfunding a cinch so your honeymoon dreams can come true.
Set Up a Free Donation Page in Your Favorite Crowdfunding Site
In an effort to raise enough money to go on the perfect honeymoon, you have to pick the best platform for your crowdfunding efforts. Some crowdfunding sites are specifically dedicated to honeymoons, but you do not necessarily need to use them if you have another option in mind.
The best choice is the one to put the most money in your pocket. Some crowdfunding websites refuse to charge fees, and this is ideal because you want to use your money wisely so you can go on an amazing honeymoon getaway you and your spouse will absolutely love.
According to our favorite crowdfunding website whose motto is "Plumfund: giving feels good", "We are pleased to offer you our free crowd-gifting platform, based on 10-years of gifting experience."
Keep Your Goal in Mind When Creating a Honeymoon Crowdfunding Campaign
On average, couples spend roughly $4,500 on their honeymoon. It's okay if you plan to spend more or less. Just know exactly how much money you need to raise ahead of time so you can secure enough to plan the perfect trip.
It's best to figure out how much you'll have to spend on hotel, airfare, food, drinks, activities, amenities, and anything else that comes to mind. So plan your trip in advance, figure out your total expenses – or estimate them as best you can – and make sure you raise enough to finally have the honeymoon of your dreams.
According to the best bridesmaid dresses & bridesmaid gowns website online, strategic planning and honeymoon price estimating is crucial to having the perfect getaway with your adoring spouse.
Write the Ultimate Honeymoon Description
To really capture the hearts and minds of your friends and family members, it's necessary to write the perfect description of your honeymoon destination. Open up your heart, let your emotions spill out onto the page, and make sure everyone sees just how important this honeymoon is to you and your spouse.
Do not hesitate to share a personal story or two with your audience. Let them see deep down inside of your soul, and give them plenty of reasons why this fundraiser is so important to you.
Plus, share a breakdown of your costs and expenses and be completely upfront with everyone. By approaching honeymoon crowdfunding this way, your friends, family members, and loved ones will see why you need the money and they'll have no problem lending a helping hand to make your honeymoon vacation more special than ever.
Conclusion
To truly have the ideal honeymoon vacation, you should use the tips we've shared today to set up a successful crowdfunding campaign. You'll see the power of these suggestions in action after you surpass your crowdfunding hopes and expectations.
Join our newsletter
Get the latest content straight to your inbox.