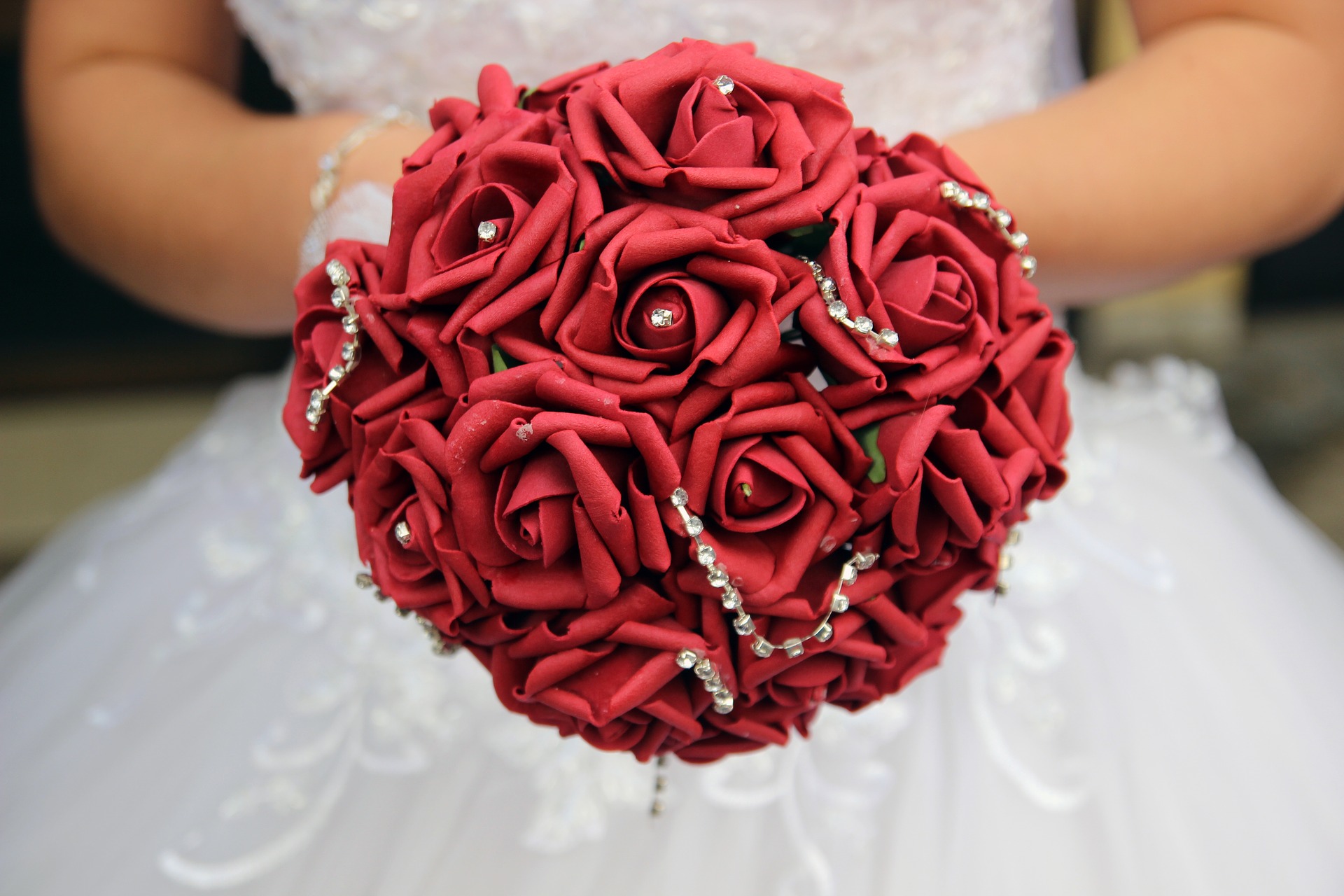 Often, the wedding gown is one of the largest expenses a bride has to handle. In 2017, the average cost, including alterations, was over $1,500. Not every bride wants to spend that much on a dress they only intend to wear once. Luckily, you don't have to as there are plenty of stunning options for less. With that in mind, here are five amazing wedding gowns you can buy for under $100.
1. Organza Wedding Dress with Ruffled Skirt

This organza wedding dress by Honey Qiao has a pleated bodice and multi-tiered ruffled skirt that is sure to amaze. Along with a sweetheart neckline, one of the most popular options for brides, it also features a belt with a flower embellishment.
The asymmetrical skirt does rise a bit in the front, so brides need to be comfortable with exposing their legs if they are going to enjoy this style. Additionally, the back of the skirt does skim along the ground, so it may not be ideal for outdoor weddings or if the bride is worried about it getting dirty.


2. Strapless Chiffon Wedding Gown

For the bride who appreciates simple elegance, this strapless chiffon wedding gown from ANTS is a great choice. This dress has a sweetheart neckline, and the fabric crisscrosses along the bodice, visually slimming the waistline.
The A-line skirt is incredibly flowy, creating subtle movement with each step while remaining tight to the body when standing still. Additionally, the corset-back adds a nice detail and a hint of romance.
This dress is also available in a wide range of colors, so you could choose to order bridesmaids dresses in the same style, creating a very cohesive look at an affordable price.
3. Vintage Tea Length Lace Wedding Dress

Not every bride pictures themselves walking down the aisle in a floor length gown. Luckily, this stunning vintage tea length lace wedding dress from APXPF features a slightly shorter skirt and tons of style.
The skirt is a dramatic A-line, floating gently away from the body, stopping below the knee. The upper portion of the skirt and bodice include romantic lace while the neck features delicate netting with lace trim, providing additional coverage while remaining light.
If you want to add a hint of color, consider purchasing a petticoat to go underneath the skirt. Not only will it make for a fun peekaboo surprise but it will also create additional fullness for those who want a little more volume.
4. Full Lace Mermaid Bridal Gown

If you prefer the look of a mermaid dress, this full lace version from Siqinzheng is great option. The entire gown is covered in an elegant floral lace, making it incredibly romantic, while the body-conscious shape makes it slightly sexy as well. Plus, you'll enjoy a sweetheart neckline and corset back, giving it additional detail and allowing you to show off your curves.
It's important to note that this dress does have a bit of a train, so it may not be ideal for outdoor weddings if you are worried about keeping the material clean.
5. Ballgown Bridal Dress

Some brides have dreamed of a wearing ballgown for their wedding since they were just a kid. Luckily, you can enjoy being a princess for a day without breaking the bank thanks to this stunning ballgown from Beautyprom.
The bodice has a sweetheart neckline and is covered in sequins and small beads, giving it some shimmer. The corset back descends just slightly beyond the bodice. This creates a clean line into the full tulle skirt. Even though the dress qualifies as a ballgown, the materials used keep it from feeling heavy. Thus, ensuring you can enjoy your ceremony and spend hours dancing during your reception without feeling weighed down.
Look for Free Shipping and Order Early
All of the options above are as amazing as they are affordable, and some even come with free shipping. If you are working with a tight wedding budget or simply don't want to spend a thousand dollars or more on a single dress, consider giving one a try. There's something on this list for nearly any style bride, so take a look and see if you can picture yourself in any of these on your wedding day.
Just make sure you order with enough time to handle any shipping delays, as some of these may take a little time to arrive. Similarly, you may want alterations, giving you a chance to achieve the perfect fit for your wedding. With savings like this, it is certainly worth planning ahead, so order well in advance of your big day if you want to avoid any unnecessary stress.
Do you know where brides can find low-cost wedding dresses? Let us know in the comments below.
Read More: