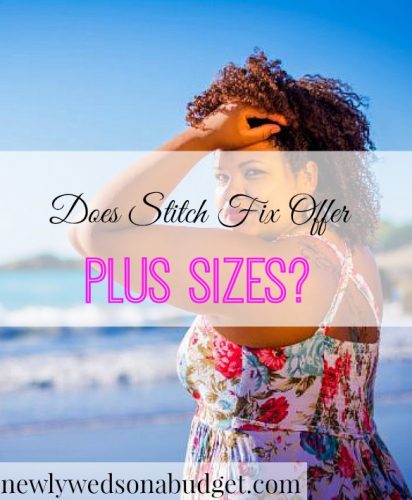 You may or may not have heard of Stitch Fix. What is it? It's a subscription clothing service where personal stylists pick out pieces to add to your wardrobe. You choose how often you receive a 'fix' which includes a few clothing items that have been handpicked for you.
There's a $20 styling fee to pay each time you order a fix but it can be applied to your purchase if you choose to buy any of the clothing items you receive. If you don't want to buy something, you simply ship it back to StitchFix.
Stitch Fix has become very popular for women who lead busy lives and don't have time to shop. Recently, Stitch Fix came out with a service for men too. Now, let's get down to business.
Does Stitch Fix Offer Plus Sizes?
Stitch Fix is such a convenient service and when shopping online or using a clothing subscription service, everyone wants to be able to find ideal clothing in their size.
Luckily, Stitch Fix finally got with the program and started offering plus size clothing. Initially, they only offer clothes for women sizes 0 – 14.
Now, Stitch Fix offers plus sizes from 14 – 24W and 1x – 3x.
For many women who'd been interested in trying out Stitch Fix, offering plus size clothing has been a big concern/factor for them so I'm glad Stitch Fix listened up and made the change to be more inclusive.
It was actually a smart business move on their part too because now a wider variety of women can try the service out. For example, for some tall women, a size 14 or 16 is pretty standard but when Stitch Fix didn't offer too many options in those sizes, it made it nearly impossible to try out the service.
What About the Fit and Brands?
Another thing I love about this change is that Stitch Fix now has a specially-trained styling team who knows how to select items that compliment your share. Their in-house plus size fit experts focus on streamlining sizing to ensure it fits you well.
This can save you a ton of time and effort in comparison to shopping for yourself the traditional way. Plus, Stitch Fix always delivers quality items and cutting edge styles.
In terms of the different brands Stitch Fix uses, they offer styles from more than 90 recognizable and up-and-coming brands for plus sizes so your clothing fixes should always come with plenty of variety based on your preferences.
Some of the brands they partner with include Eloquii, Junarose, Slink Jeans, and Universal Standard. Some of the other brands Stitch Fix uses are exclusive to the service so you won't be able to find them anywhere else.
Get Started With a Style Quiz
If you're interested in giving Stitch Fix a try, your first step is to take a style quiz on their site to specify what your fashion preferences are.
This is the fun part and will help your stylist handpick items that you'll love.
Have you ever tried Stitch Fix before? Will you be more willing to try the service out now that you know they offer clothes in a wider size selection?