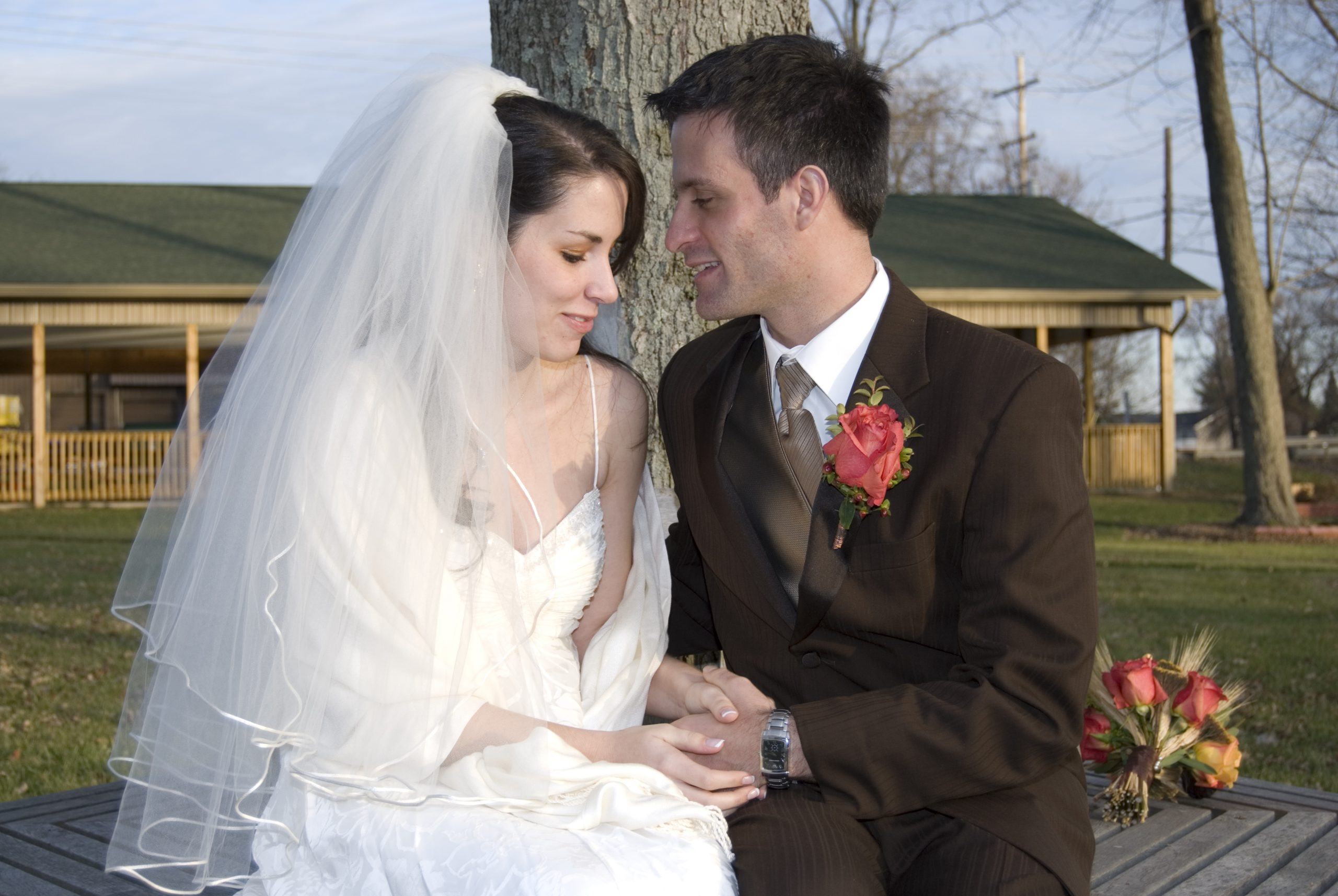 If you have been considering heading to your local courthouse to avoid the steep costs of an actual wedding, we don't blame you. The costs of having a nice wedding are loudly bemoaned in society, and for very good reason. However, you may still ask yourself, "What is the average cost of a wedding in the United States?"
And for those who simply cannot afford the wedding costs that so many others struggle to pay, what options are available that don't require eloping? There are plenty of financing options and ways to minimize wedding day costs. If a beautiful and memorable wedding is a priority for you, it is within reach. Best of all, you won't have to go broke to do it.
Average Costs
The Knot did a study in 2018 to find out the average wedding day costs for Americans. The average overall cost of a wedding was calculated to be $33,931, which is quite a hefty price tag. They calculated the average cost of many wedding services, rentals, and purchases:
Reception Venue: $15,439
Ceremony Venue: $2,382
Photographer: $2,679
Videographer: $2,021
Transportation: $856
Wedding Planner: $2,002
Officiant: $286
Reception DJ: $1,292
Wedding Dress: $1,631
Hair and Makeup: $225
Rehearsal Dinner: $1,297
Groom's Attire: $283
Catering: $70 per person
Flowers and Other Décor: $2,411
Invitations: $386
Wedding Cake: $528
Choosing to Finance a Wedding
There are quite a few people who decide to finance their weddings, or at least a portion of it, through some form of credit. A few popular options include credit cards, personal loans, title loans, or borrowing from friends and family. Whether you decide to use this strategy to afford your wedding comes down to your personal judgement. This could work for many people while being a bad idea for others.
When weighing your options, it is important to understand every aspect of the agreement you are making with a lender. Make sure you understand the interest rates you are signing up for and ensure that you will be able to afford the monthly payments after the wedding is over. The last thing you need to deal with after a dreamy honeymoon is a high monthly loan payment that doesn't fit into your budget. But if you are confident that financing through credit will work, then do some research and pick the best lending option for you.
How to Minimize Wedding Day Costs
If you are determined to have an amazing wedding without spending anywhere near the average cost, then you may benefit from some strategies for minimizing the costs for services and purchases listed above. The following tips can save you a significant amount of money without making your wedding seem cheap:
Don't get stuck on the idea of having a brand new, made-to-order wedding dress. There are plenty of gorgeous gowns in sample sizes and consignment. Plus, once worn dresses could look stunning for a fraction of the original price. Check out some great online stores like Stillwhite, Wore It Once, and Nearly Newlywed to get some beautiful once-worn or never-worn dresses.
No one needs a paper invite. Save money on the paper, printing, envelopes, and postage by going paperless for your wedding invites. This will save you tons of money and make it much easier to organize your RSVPs.
Be your own DJ. All you really need to throw an amazing dance party for your reception is a great playlist on your phone and some speakers! This way you can make sure some of your favorite songs play. It's your wedding so you should get to dance to Toxic if you want to.
Minimize your use of a professional photographer. Instead of having your pro photographer there the whole time, simply have them take pictures of the bridal party beforehand. Then recruit all your friends with top-notch phone cameras to take as many beautiful pictures as they can throughout the ceremony and reception. They can upload all the images to a shared album the next day. You'd be surprised how gorgeous many of them turn out.
Keep your guest list as small as you can. The cost of catering is based on the number of plates needed. For this reason, it's a good idea to keep the wedding intimate if you want to save money. You can do this by inviting less people and limiting the number of plus ones you allow your invitees.
Pick a date that isn't during peak wedding season. You can save significantly on your venue and other costs by simply holding your wedding during the off-season. Having a January or February wedding will cost a lot less than a June wedding.
Do some comparison shopping for your meal and drink options. Fancy plated dinners will be the priciest catering option. Same with an open bar. So, it's worth it to do a little research and compare pricing for other options like buffet or family style. You could also consider offering just beer and wine instead of a full open bar.
Look into less conventional venues. Instead of traditional venues, consider more affordable options like a family member's home, a nice restaurant, your backyard, a local brewery, or a wine cellar.
Who needs cake? A fancy cake isn't necessary to serve your guests a delicious dessert. You could serve cookies, pie, or ice cream instead. If you do want to get a cake to cut, you can forgo a few tiers and save a big chunk of money.
Request wedding help instead of wedding gifts. You can ask talented friends to give you the gift of their services instead of that new dishware. People could offer their services for photography, live music, DJing, cooking, or baking.
Everyone deserves to have a magical wedding day they will never forget regardless of their budget.
Photo credit, Freeflight046, via Flickr.