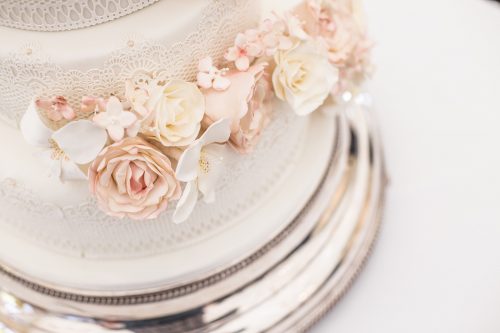 On average, couples spend a whopping $500 on their wedding cake. It isn't uncommon for bakeries to charge $4 to $5 a slice on the low end, ramping up the price depending on the kind of cake, the complexity of the decorations, the overall size, and other factors. For many, that's simply unaffordable. Luckily, you don't have to spend that much to get an amazing tasting, magnificent looking wedding cake. If you need to keep your wedding cake costs down, here are four tips that can help you save money on your wedding cake.
1. Have a Small Display Cake, But Serve Sheet Cake
If you want the look of an extravagant cake for less, consider this approach. Have the baker create a one- or two-tier display cake. You'll use that for the ceremonial cutting of the cake mainly. But you might also use the display cake to serve specific honored guests, such as the bride and groom, wedding party, and parents of the couple.
You'll also ask that the baker make enough sheet cake to cover the remainder of the guests. Making sheet cakes is less complex than tiered ones. Plus, you can eliminate much (if not all) of the decorations on sheet cakes, allowing you to save.
2. Make Simplicity Your Go-To for the Design
The cost of decorating a cake is often based on the number of hours it takes the baker to complete as well as the overall complexity. When a design is complicated, it requires more effort. If the decorations are especially challenging to do, the level of risk goes up, and that also raises the price tag.
If you want to keep the cost of your wedding cake down, think simplicity. A tower of tiers, lace-style piping, sugar flowers, and similar features all add to the cost. By opting for something minimalist but elegant, you might be able to shave quite a bit off the overall price.
When you meet with your baker, discuss how different decorations influence the price. Give them an idea of your preferred look, and ask them what lower-cost approaches may fall in that ballpark. You might be pleasantly surprised by what they bring to the table.
3. Ask About Buttercream and Fondant
By and large, wedding cakes feature either buttercream or fondant icing. If you go with the latter, there's a decent chance your cake will cost more just because of that choice. Fondant can be challenging to work with and is made of more expensive materials. As a result, most bakers charge more for it than they do for buttercream.
However, do be aware that, just because you opt for buttercream, that doesn't mean your cake can't be expensive. Depending on the kind of finish you request, you could make using that icing harder, which does influence the price. If you aren't sure which option is best, ask your baker about the charge for completing your ideal look in each option. That way, you'll know what the final price looks like and can make a sound choice.
4. Consider Hiring Your Caterer or Venue for the Wedding Cake
If you've hired a caterer to handle the food at your wedding, you might want to ask about adding your wedding cake to the package. In some cases, your caterer can handle the cake for much less than you'd pay if you hired a separate baker. They may have someone on staff who can create the cake or have a deal with local bakers to keep the cost down, so it never hurts to ask.
At times, you could also speak with your venue, especially if you are using a high-end hotel for the reception. Again, many hotels have arrangements with local businesses (or might be able to make one) or could have someone on-staff in their kitchen who could create the cake. This isn't always the case, but it generally doesn't hurt to explore it as an option.
Do you have any other tips that can help you save money on your wedding cake? Share your thoughts in the comments below.
Read More: