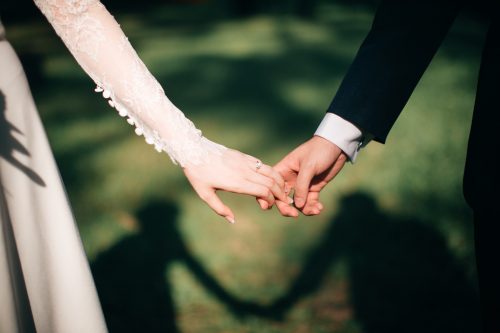 The coronavirus pandemic triggered stay-at-home orders all across the country, many of which banned large groups of getting together for essentially any purpose. People in every state were also asked to follow social distancing recommendations, specific tenets that dictate how far apart people need to stay.  As a result, many couples chose to reexamine their wedding plans. However, if you decide to move forward with your wedding, you might be able to significantly lower the cost. Here's how you could save money by having your wedding during the pandemic.
Downsizing Your Guest List Makes Sense
Many couples prefer to have large weddings. However, others only do so to accommodate family members and friends who all want to attend. It's an approach that keeps the peace, even if it isn't what the couple originally envisioned.
But, with the pandemic, downsizing is usually a necessity. By planning a wedding now, you can reduce your guest list simply out of necessity, blaming the various rules that ban large gatherings. Plus, many out of town potential attendees may opt-out of traveling for their own safety. This means your guest list may reduce itself somewhat.
And, with fewer people in attendance, your costs typically drop. You don't need as much in food or drinks, can get a smaller venue, and can reduce your need for travel-oriented expenses, like transportation or accommodations for out-of-town guests who now aren't coming.
Go Virtual for the Wedding During A Pandemic
Even if you want all of your friends and family to witness the happy occasion, that doesn't mean you can't do it cheaply and without having to delay your wedding. By broadcasting the ceremony online, anyone who wants to watch the wedding can stream it.
While going virtual does add a small cost, it is far less than how much it would run to host all of the guests live and in-person. But it still lets everyone be present, in a way, making it a kind of middle ground.
Your Venue Options May Cost Less
With the coronavirus outbreak, many typical wedding venues have to follow new guidelines regarding large parties. As a result, a few scenarios may play out.
First, many of the locations were flooded with cancellation requests as the restrictions were put in place. In some cases, this could create an opportunity to snag a discount on a coveted venue if it reopens but isn't fully booked because cautious couples postponed.
Second, it makes some low-cost options sounder choices. For example, due to the current situation, you may prefer a backyard wedding. With that approach, you have full control over your environment, and that may be preferable.
Have the Wedding Now, Reception Later
Some couples have decided to split up their wedding and their reception. This allows them to focus purely on the ceremony now, paring down the costs dramatically by choosing a smaller venue and sharply limiting the guest list.
Then, when the pandemic calms, and people feel confident gathering, couples can host a large reception with the entire original guest list. While this means that the reception cost will largely be the same, you are saving on the ceremony. Plus, your timeline for the party could be more flexible, allowing you more time to find deals that keep the costs down.
Not Losing Your Deposits
If you had initially planned to get married soon, you've likely put down a few deposits with vendors. In some cases, postponing or canceling means losing some of that deposit. As a result, choosing not to have your wedding now costs you money.
Now, it's important to note that many vendors are being flexible, considering the nature of the situation. But it's also vital to understand that, legally, they might not be required to accommodate any changes, even with the pandemic in play.
Review any contracts you've signed to see what sort of rules there are regarding deposits, postponements, and cancellations. After that, you can contact the vendor and ask what would occur if you did choose to delay your nuptials. You could also find out if they are making exceptions to their policies due to the coronavirus. Then, you'll know whether delaying comes with a price tag and can act accordingly.
Do you have any tips that can help couples save even more on their wedding during a pandemic? Share your thoughts in the comments below.
Read More: