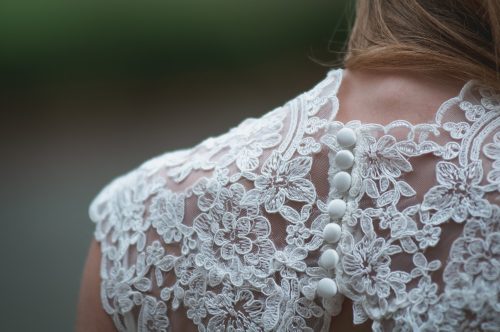 If you prefer classic charm or your wedding theme involves a specific era, you may have your heart set on finding the perfect vintage wedding dress. However, tracking down a wedding gown that's several decades old can be a challenge. If you're hoping for something older, then you may really have your work cut out for you. However, even if it's a bit challenging, that doesn't mean you shouldn't seek out the dress of your dreams. If you look in the right places, you may be able to find your perfect vintage wedding dress. If you don't know where to start your search, here are some great options.
Head Online
Finding a genuine vintage wedding dress often means looking outside of your immediate area. One of the easiest ways to conduct a coast-to-coast search is to start online.
There are a surprising number of sites that sell vintage wedding dresses. Mill Crest Vintage has a strong selection of vintage gowns, with some dating back as far as the 1900s.
Decades is another site worth exploring. While this online store doesn't focus specifically on vintage wedding dresses, some of the items they offer could work for a bride's special day.
In a similar vein, Beyond Retro is a favored destination for vintage shoppers looking for all kinds of clothing. At times, you can find dresses that are either genuine wedding gowns or that could work for the occasion.
1stDibs is another popular resource for vintage wedding gowns. Again, the store doesn't focus solely on wedding dresses. However, the selection is fairly strong, featuring wedding dresses from a range of popular decades.
While Preowned Wedding Dresses doesn't necessarily specialize in vintage gowns, it is a great resource for brides who are looking for a wedding dress for less, including some vintage options. You can limit the results based on the year the dress was originally purchased, allowing you to track down your ideal era of gown quickly.
You can also check out Etsy for a gown. While Etsy is best known for handmade items, sellers can also list vintage clothing, including wedding dresses. This can be a great option if you know you want vintage but are open to different styles, as you never know what you may find during your search.
Take a Trip
Some wedding dress stores only sell in-person. If you're willing to journey to the shop, you may be able to find exactly what you need, as well as try the dress on before you buy.
One of the most prominent vintage wedding dress boutiques is Happy Isles. The store specializes in gowns from the 1930s through the 2000s, giving you a fairly broad selection. However, the only way to see all of what's available is to schedule an appointment.
There are other boutique wedding stores all across the country. If you focus your search on major cities that are convenient to you, you may be able to track down a great destination.
Plus, you can usually check in advance to see if the boutique has the kind of dress you want ahead of time. Simply reach out via email, give them an overview of what you're looking for, and they can probably tell you if they have something that aligns with your general vision.
Try Consignment Shops
Consignment shops allow people to place their items up for sale and to receive part of the purchase price for the item. In many ways, consignment stores are like upscale thrift shops. They tend to have nicer items, as the pieces aren't donated, but being sold by the current owner.
Whether you'll find vintage wedding dresses in your area will vary. However, it's often a route worth exploring, particularly if you are near a large city or an affluent area.
Find New-Vintage
If your main goal is to get vintage styling, you may be able to find it in a new dress. Many designers are inspired by various eras, crafting gowns that align with their favorite decades.
Shareen is a store that allows brides to explore their collection of wedding dresses by appointment only. What makes this option unique is that the designer uses aspects from real vintage dresses to craft new creations. It's a great way to get the exact look you want without having to rely so much on luck, making it worth considering.
You could also go the custom route if you prefer. Many dressmakers that focus on custom designs can create nearly anything you'd imagine. If you have a highly specific look in mind and can't seem to find it anywhere, this new-vintage approach might be your best bet.
Bonus: The Key to Buying a Vintage Wedding Dress
There is one important point to consider if you are shopping for a genuine vintage wedding dress. When you spot a great dress, you may not be able to wait to make a purchase decision.
Unlike traditional wedding gowns available in retail stores, if the dress you like is purchased by someone else, you can't simply order a new one from the designer. Often, you need to treat a vintage dress like it's a one-of-a-kind, even if it was produced by a major label when it was new. If you don't scoop it up when you see it, and it is sold to someone else, you may be entirely out of luck.
While it can be hard to jump on a dress quickly, it may be a necessity if you're going for a vintage gown. As a result, it is usually best to only start shopping when you have cash (or credit card) in hand and are ready to buy. That way, when you spot the perfect vintage wedding dress, you can grab it immediately.
Do you have any other tips that could help brides find vintage wedding dresses? Share your thoughts in the comments below.
Read More: