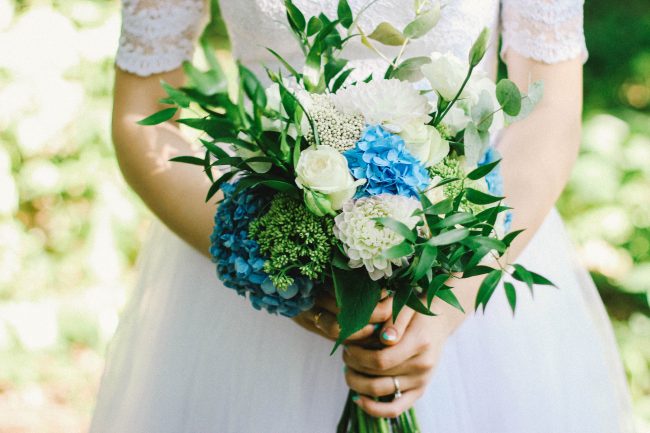 On average, wedding dresses – including alterations – cost $1,631. However, prices can go far above that point. If you're a bride on a budget, even the average price may be hard to shoulder. Luckily, there are ways to keep the cost down without having to sacrifice on quality. If you're a budget-conscious bride looking to save, here are five summer wedding dress hacks that can help.
1. Never Try on the Out-of-Budget Dream Dress
Many brides think that trying on one expensive dress "for fun" doesn't matter. However, if you put on an out-of-budget dream dress, there's a chance you'll fall in love with it. If that happens, you set yourself up for some issues, the biggest being that other wedding dresses simply may not measure up.
Getting your heart set on a dress you can't afford could mean wedding gowns in your budget feel dissatisfying. When that happens, you either end up settling for a dress that doesn't give you the same feeling or busting your budget to get the one that you tried on for fun.
In most cases, it's best to avoid the situation entirely. Don't try on any wedding dresses that are out of budget, and you won't have to worry about any of the troubles above.
2. Choose a Lightweight Dress for Summer Weddings
If the temperatures are warmer, certain traditional wedding dress fabrics – while beautiful – can be hard to wear. Non-breathable materials and multiple layers take sweltering heat up a notch, leaving you uncomfortable and sweaty.
When you shop for wedding dresses, look for lighter-weight fabrics and breathable materials. Additionally, avoid unnecessary layers whenever possible.
One of the benefits of going this route is that fewer fabric layers usually mean the dress is less expensive. There's less material, for one. For another, it may have been simpler to put together, something that can also keep the cost down.
3. Start with a Simple Dress (Then Customize It)
If you're looking for straightforward summer wedding dress hacks that can save you money, going with a simple dress is a great one. The complexity of the dress plays a big role in its price. By going with something simpler, you can often save a bundle.
Plus, a simple dress can work as a blank canvas. By adding custom touches and clever alterations, you can personalize your wedding dress to your taste. Not only will it be exactly what you envisioned, but it turns your wedding gown into a one-of-a-kind piece.
You can also work wonders with accessories. Jewelry, belts, and similar pieces can elevate a simple dress dramatically, all while saving you money overall.
4. Shop Near the Start of the Winter Season
Wedding dresses have seasons like any other kind of clothing. Additionally, designers release new dresses for those seasons. As a result, boutiques have to make room for incoming styles, and that means last season's gowns often go on sale.
If you have time on your side, try shopping for your summer wedding dress near the start of the winter season. If you do, you might be able to get a decent discount because the boutiques are trying to make room for the winter season gowns and need to get summer styles off of the show floor.
5. Get a Custom Dress Made by a Seamstress
While working with a seamstress to create a custom wedding dress might sound like a more expensive option, that isn't always the case. When you go this route, you aren't dealing with the markups that you find in a retail store. Instead, you're paying for the materials, time, and experience.
If you do decide to get a custom dress, do your research before choosing a seamstress. You want to find someone who has experience with the fabrics you want to use, as some require specific techniques that not all seamstresses may use regularly.
Spend some time reading reviews and looking at photos of past creations. Schedule consultations to discuss your vision to see how the seamstresses feel about the project. Gather several quotes so that you can compare them.
By doing a bit of due diligence, you increase your odds of finding the right seamstress. It can take a little time, but it is certainly worth the effort.
Do you have any other summer wedding dress hacks for brides on a budget? Share your thoughts in the comments below.
Read More: