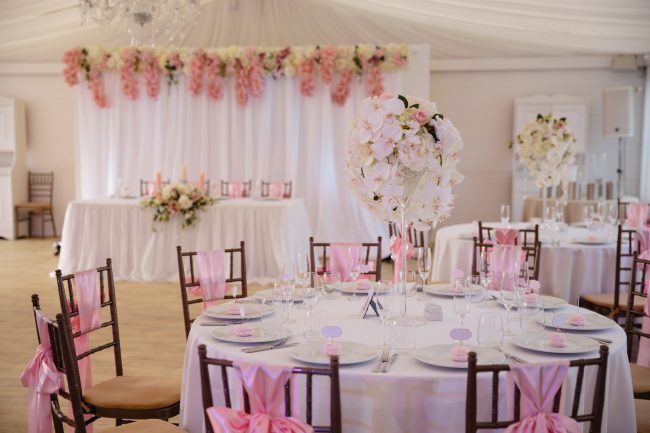 Most wedding receptions focus on the same few activities. There's the dining, dancing, the cutting of the cake, the bouquet toss, and similar classics on the schedule. However, if you want to make your event particularly memorable, adding a few creative wedding reception touches is a smart move. If you're looking for a way to ensure your event stands out, here are six creative wedding reception ideas to add to your festivities.
1. Have a Portrait Studio
Photo booths at weddings have grown incredibly popular over the years. They give guests a way to memorialize the occasion and have a bit of fun. However, the machines aren't the most comfortable, and guests may not have as many options available if you go this route.
Luckily, there is a great alternative. Instead of a small booth, set up a portrait studio. That way, you can add higher-quality lighting and give guests more space to express themselves.
As you prepare the studio, make sure to include a few backdrops and a range of quirky props. You can also make a few props available that are particularly significant to your relationship, giving you a way to add a personal touch.
When it comes to taking the pictures, you have a few choices. You could hire a separate photographer to snap the pics. While this means making a bigger investment, it could lead to higher-quality images. Plus, the guests will benefit from someone who can give them guidance, ensuring they look their best.
Otherwise, using a camera or smartphone with a remote-controlled shutter could also work. Just make sure to write up a quick set of instructions for guests to follow. That way, they know exactly how to capture their moment.
2. Host a Scavenger Hunt
Adding a scavenger hunt to your reception is another creative wedding reception ideas and an excellent way to keep your guests engaged with a bit of fun. Plus, it's a chance for you to encourage some mingling and capture a few unique moments.
When you create the list, consider focusing on fun photo ops. For example, you can ask for a photo of someone laughing during the reception or a picture of the scavenger hunt group by a particular feature, like a fountain or specific tree.
Have the participants upload the images using a personalized hashtag, allowing you to check out all of the quirky moments they capture with ease. Plus, that helps you confirm the winner, as you'll be able to see when the images were uploaded.
If you want, you can even offer a prize to the first group that completes the scavenger hunt successfully. A simple gift basket or similar option can often do the trick.
3. Add a Wine, Spirit, or Beer Tasting
While many wedding receptions have a bar, most don't go the extra mile by offering a curated tasting. By adding a beer, spirit, or wine tasting to your event, you're giving guests a unique experience, making your reception more memorable.
When you prepare the tasting, try to pick a theme that is also meaningful to your relationship. For example, you could feature wines from the country you're heading to for your honeymoon or beers or spirits from some of the local area's greatest brewers or distilleries.
Make sure that you have a guide in place for the tasting. That way, the guests can learn about the drinks as they explore each one, giving the tasting that little something extra.
4. Hire a Caricature Artist
If you want to give guests a unique, personalized keepsake, consider hiring a caricature artist (or a few) to create sketches of the guests. It's a quirky way for all attendees to capture the moment and often leads to some great laughs.
Plus, it reduces your workload. You won't have to spend time putting together wedding favors that serve as keepsakes. Instead, you can simply place cards on the tables letting guests know about the artists and invite them to go get their sketches done.
Just make sure you have a place for guests to store their caricatures until the event is over. That way, they don't have to haul a piece of paper around with them or risk them getting damaged during the reception.
5. Hire a Unique Entertainer
While most wedding receptions have a band or DJ, why not take it up a notch by bringing in a unique entertainer? Hire an acrobatic troupe or aerialists for a performance. Bring in a celebrity impersonator or fire dancer. Set up for an extreme bartender to serve drinks.
By injecting your reception with some professional-level performances, you add something unique and entertaining to the event. It's a great way to do that little something extra that guests may not expect, ensuring your event is as memorable as possible.
Just make sure that you focus on professional groups, ideally ones that have experience working at wedding receptions, conferences, or similar large gatherings. Additionally, see if they have recordings of their past performances that you can preview, ensuring you get an entertainer that will excite and delight your guests.
6. Add Some Games
If you are having a daytime, outdoor reception, adding a few games to the landscape could be a great move. It gives your attendees fun activities to take part in, allowing them to enjoy each other's company while trying their hand at games of skill.
Many classic lawn games are great options. Bocce ball or croquet can both be great choices. If you want to add a hint of danger, try giant Jenga. You can also get monogrammed cornhole boards, allowing you to personalize the game for your wedding.
Can you think of any other creative wedding reception ideas that couples may appreciate? Have you tried any of the options above and want to tell others about your experience? Share your thoughts in the comments below.
By the way, if you want to learn about Couples Financial Management (like paying off debt, saving for a downpayment on a house, investing in retirement, etc.), join this one-of-a-kind online training by Beyond Millions.
Read More: