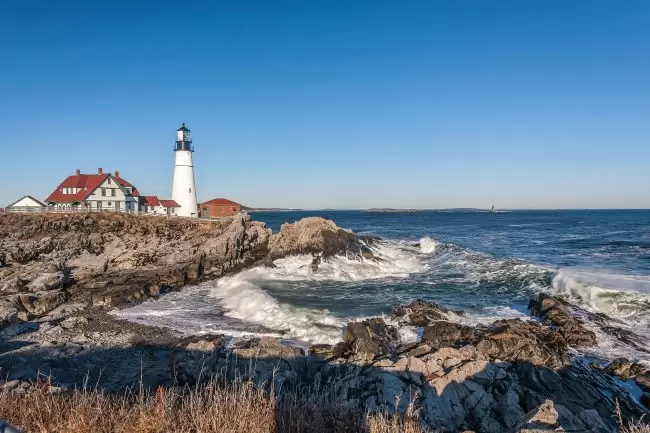 Small wedding venues in Maine are fantastic options for many couples. In many cases, they are far more affordable than some larger sights, making it easier for budget-conscious brides and grooms to find a great location without breaking the bank. Others make luxury more affordable, while some simplify planning by offering all-inclusive packages. Ultimately, they can have a lot to offer. If you're looking for small wedding venues in Maine, here are five that you need to check out.
1. Nonesuch River Brewing – Scarborough
For couples who appreciate a refined rustic aesthetic, Nonesuch River Brewing could be the unique small wedding venue you're after. The location offers up a striking post-and-beam two-story building featuring classic New England styling. Plus, there's an outer deck with amazing views of the surrounding area.
If you'd like, you can use the deck for your ceremony, allowing you to incorporate the beauty of nature into your event. Then, you can transition inside, giving you a cozy but spacious place to celebrate your nuptials.
Within the center of the venue, there's a magnificent bar. There, you can have the location provide a broad selection of their unique brews, adding an intriguing experience to your celebration. Additionally, there's plenty of space for dining and dancing.
Plus, this venue is near plenty of short-term vacation rentals. Whether you need a place for out-of-town guests or simply want to move right from your reception to your honeymoon, there's a good chance you'll find the perfect option nearby.
2. Grey Havens Inn – Georgetown
If you'd like an oceanfront wedding, Grey Havens Inn is one of the must-see small wedding venues in Maine. The historic inn features stunning architecture, which adds a sense of charm to the occasion. Plus, there are fantastic outdoor spaces that can be perfect for a ceremony or reception, allowing you to enjoy the water views while celebrating your big day.
For couples that want to simplify planning, this venue offers convenient packages. You'll get help from a wedding coordinator, ensuring that every detail is addressed. Plus, the wedding coordinator can connect you with any additional services you could need, including florists, photographers, officiants, and more. That way, you can get everything managed efficiently while still remaining in control of the entire event.
When it comes to meals, the on-site restaurant can handle everything. Whether you'd prefer a relaxed lobster bake or a refined sit-down dining experience, they can come up with an option based on your preferences. Additionally, the kitchen is ready to accommodate special dietary needs, ensuring everyone can have a delectable meal even if they have restrictions.
Finally, this venue does have rooms available. If you want to transition right from your wedding day into your honeymoon or simply want to make it easier for out-of-town guests to attend, this location has options that can meet your needs.
3. Tea Pond Lodge & Cabins – Eustis
For couples who enjoy rustic elegance, Tea Pond Lodge & Cabins is likely right up your alley. There are breathtaking historic cabins and elegant barns at this stunning waterside location in the mountains. You'll get an off-the-grid feel while still having access to modern touches, ensuring your ceremony and reception feel secluded while keeping everyone comfortable.
When it comes to the ceremony location, you can get married right along the water. Tea Pond also serves as an outstanding backdrop for photographs, allowing you to incorporate the natural beauty of the area into your images.
For the reception, you have several choices. However, one of the most popular is an open-air barn. It has fantastic wood finishes, as well as enough space for dining and dancing. Plus, the open side lets you continue to enjoy the natural setting, giving you amazing views of the nearby trees.
4. The Maine Boathouse – Freeport
If you prefer an intimate seaside venue, the Main Boathouse might be your ideal destination for your wedding. It features plenty of New England charm, as well as nautical touches that pay homage to the waterside location.
Along with ceremony spots on the dock, there is a small lawn that can support some guests. The water will serve as a breathtaking backdrop for your ceremony while guests are seated nearby to share in the joyous occasion.
If you'd like to have a private ceremony, you can also choose to get married while in a small but refined boat. You'll gently float while exchanging vows, making the ceremony feel incredibly intimate.
When it comes to the reception, there are amazing spaces for tables outside. You can dine in the sun or moonlight, taking in the scenery will you enjoy a delectable meal.
5. The Lodge at Moosehead Lake – Greenville
If you're looking to elope, the Lodge at Moosehead Lake could be your perfect option. It offers packages designed only for the couple, ensuring that everything you need is handled for you. Plus, the venue itself is breathtaking, offering up outstanding views of nearby trees, lakes, and more.
Each of the elopement packages is all-inclusive, ensuring couples only need to worry about bringing their marriage license, wedding attire, and rings. Otherwise, everything else is included. You'll get access to an officiant and photographer, and witnesses will be made available. You'll get a gourmet cake in your preferred flavor, champagne for a toast, and fresh flowers.
One of the nicest features of this option is that the elopement packages include a stay at the property's bed and breakfast. There will be champagne and strawberries there upon your arrival, and you'll get an in-room breakfast each day, allowing you to start off a relaxing honeymoon without having to leave the venue.
If you would like to bring some guests to your wedding, you can add up to six people for an additional cost. Additionally, you may be able to secure rooms for those guests as well, though that will depend on availability.
Have you ever been to any of the locations above? Can you think of any more must-see small wedding venues in Maine that couples need to consider? Share your thoughts in the comments below.
By the way, if you want to learn about Couples Financial Management (like paying off debt, saving for a downpayment on a house, investing in retirement, etc.), join this one-of-a-kind online training by Beyond Millions.
Read More: