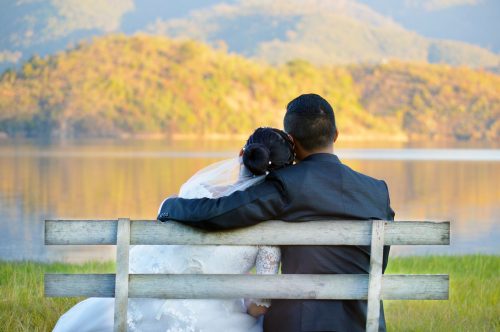 Small wedding venues in Vermont have a lot to offer couples. When you select a smaller venue.  You may have the ability to afford some luxuries that would be out of reach if the affair was larger. This can help couples have the event of their dreams. All without breaking the bank. Plus, a small wedding venue may be able to offer more personalized service than some alternatives. Potentially simplifying planning dramatically through the use of customizable packages. If you're considering using a small wedding venue in Vermont but don't know where to begin your search. Here are five exceptional options.
1. Middlebury Inn – Middlebury
If you're looking for a magnificent small wedding venue in Vermont with traditional styling. Look no further than the historic Middlebury Inn. It offers intimate options that feel grand in scale, making even smaller events seem opulent.
For the ceremony, you can take advantage of the beautiful courtyard area, allowing the inn itself to serve as a backdrop along with the lush landscaping. For your reception, you could reserve the Founder's Room, a breathtaking formal ballroom with lovely details like a marble fireplace.
As an added convenience, you can book accommodations at the inn by renting out the entire mansion. This can be ideal for coordinating rooms for out-of-town guests or easing pre-wedding preparation for the wedding party.
To simplify planning, Middlebury Inn offers a variety of wedding packages. This can turn the venue into a full-service option, as you'll have assistance from a wedding planner and access to anything you could need, including meals, flowers, and more.
2. Sugarbush Resort – Warren
If you want an outdoor ceremony featuring some of the most stunning scenery in Vermont, the Sugarbush Resort might be your perfect destination. There are several location options available, including many that allow the Green Mountains to be a part of your experience.
When you plan a wedding at this venue, you automatically get support from on-site wedding coordinators, ensuring everything is just as you envisioned. They can assist with vendor management, menu planning, event timelines, and much more.
Plus, the resort has a lot to offer if you decide to stay at the location. There are restaurants on-site, as well as numerous activity options. You can hike, bike, zipline, and golf, just to name a few. This can make it ideal if you prefer a destination wedding that transitions into a fun honeymoon or if you simply want to ensure that out-of-town guests have an exceptional time while visiting.
Sugarbush Inn also has accommodation options, offering 42 rooms that can be reserved. This can make preparing for the wedding easier on the bridal party or allows guests from outside of the area to stay nearby.
3. Basin Harbor – Vergennes
For couples that envisioned a lakeside wedding, Basin Harbor is a great choice. Not only can you have a waterside ceremony and reception, but you can also make the Adirondack Mountains a backdrop to the entire affair.
There are several locations available at this venue, including a mix of indoor and outdoor options. You could pair a ceremony on the North Dock with a reception in the Ardelia's or Ranger Room. If you'd rather dance outdoors, you can place a tent on the Homestead Lawn. If you'd prefer a reception on the water, you can book The Escape, a boat that can hold up to 48 passengers as it cruises across Lake Champlain.
To ease preparations, you can take advantage of the venue's on-site wedding planner. They will help you review the details, coordinate services, and assist with anything else to ensure your big day is precisely how you pictured it.
4. West Hill House B&B – Warren
If you're looking for a rustic location, West Hill House B&B is an excellent option. There's a classic red barn on-site that can make an incredible backdrop for your ceremony or photos. Additionally, the location is on the wooded slopes of the Green Mountains, offering up magnificent trees and a quiet country feel.
There are also other locations available at this small wedding venue in Vermont. Along with beautiful meadows, there's a lovely gazebo, manicured gardens, and even a few ponds. No matter which you choose, the mountains are often highly visible.
For added convenience, a Justice of the Peace is available to handle your ceremony. The location also offers a range of packages that cover essentially everything you'd need. If you need something that isn't included, the venue can help you coordinate with local providers to get it covered. Plus, there are on-site accommodations available, making pre-wedding activities easier to manage or ensuring out-of-town guests have a place to rest their heads.
5. An Affair by the Lake – Addison
Another lakeside option, An Affair by the Lake is the perfect choice for couples who want a wedding weekend instead of just a single day event. Nestled along Lake Champlain, you have several options for an opulent ceremony, including a breathtaking gazebo near the water.
There is also a timber barn that's available for photos, as well as large lawns and gardens that can fit large tents for the reception. The property also has 500 feet of private beach, ensuring you won't be disturbed during your event.
For the weekend, the house on-site is completely yours. This can be ideal for pre-wedding preparations, as well as simply enjoying your full wedding weekend.
The packages are quite comprehensive, as well. Along with venue access, you also get a mini-brunch for the bridal party on the big day, as well as pastries and coffee for on-site houseguests the morning after your ceremony.
The venue's wedding coordinator can also assist with your other planning needs. They can connect you with trusted vendors, help with setup and cleanup, and even create a comprehensive plan that you can follow during your planning. This is a convenient option for couples that want to control the details but want a savvy guide who can ensure nothing is accidentally overlooked.
Did you enjoy the venues that we recommended in this article? If you, you may also enjoy looking at Airbnb sites in Vermont for you and your guest.
Do you know of any other standout small wedding venues in Vermont? Share your thoughts in the comments below.
Read More: