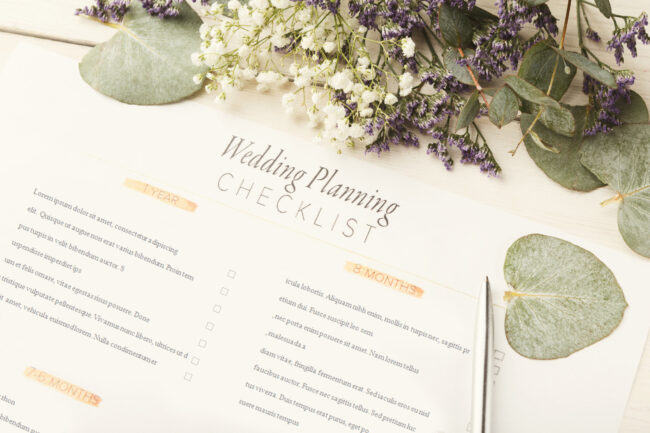 Planning a wedding is exciting, but it's also a challenge. Ceremonies and receptions involve a lot of moving parts, and many aspects of the events have unique nuances that can be hard to manage. Often, that makes wedding planning far more stressful and overwhelming than many couples expect. Fortunately, you can reduce the strain and still have a fantastic big day. Here are ten practical wedding tips that can help.
1. Consider an All-Inclusive Venue
Few things simplify wedding planning quite like an all-inclusive venue. If you want to streamline your event, look for a venue that can provide as much as possible.
There are locations that can handle practically everything; the only part you need to manage is your attire. However, others may only cover part of what you need, such as a space, tents, tables, chairs, linens, and place settings. In those cases, it still streamlines planning; it just doesn't go quite as far.
2. Choose a Naturally Beautiful Location
Another option for making your wedding more practical is to select a venue with natural beauty. For example, having a ceremony site in a lovely garden reduces the need for outdoor décor. That simplifies your planning while lowering costs.
For a church wedding, choosing a date near times when churches are decorated for a season – such as right before Christmas or Easter – may accomplish a similar goal. Just be aware that there may be stricter rules about church use, ensuring the displays aren't damaged during your ceremony.
3. Limit Your Guest List
Generally speaking, the larger the gathering, the harder it is to coordinate your wedding. If you want to keep things practical and affordable, keep the guest list small. Instead of inviting your entire family, stick with parents, siblings, children, and grandparents. For friends, limit yourself to your nearest and dearest.
4. Embrace the Digital Age
While printed and mailed save the date cards can be beautiful, they also represent a cost and a burden. Along with paying for the extra printing, you'll have to address and mail them. Then, you'll need to do it all again when it's time for invitations, as well as cover the cost of RSVP returns if those are also paper.
Instead of that, embrace digital alternatives whenever possible. Send e-cards for save the dates and accept RSVPs online. That way, you can reduce the cost and workload while still touching all of the bases.
5. Consider Traditional Catering Alternatives
There are plenty of options outside of a traditional caterer that may work well for your wedding. Your favorite local restaurant might be a solid choice, particularly if they create family-style dishes. You could even pay your favorite food truck to serve guests at your venue if permitted. That could give attendees some flexibility while making the experience unique.
6. Be Your Own DJ
Today, it's possible to have amazing music during your wedding without having to pay a DJ. If you know how long your reception is, you can curate your own playlist using Spotify, Pandora, YouTube Music, Prime Music, and more. Then, simply connect a device to a Bluetooth or Wi-Fi-enabled sound system, and you can enjoy exactly what you want for practically free.
7. Book as Far in Advance as Possible
Booking your venue and service providers far in advance can work in your favor. With extra lead time, you typically have more choices, ensuring you aren't stuck paying a premium because it's the only location, caterer, or photographer available. Plus, the lack of competition may make it easier to secure price reductions or get package discounts.
8. Skip the Dessert Table
While having a dessert table on display may look lovely, it's usually a cost you don't need to shoulder. By opting for just wedding cake, you simplify your planning and put less strain on your budget.
If you want to go further, have a display cake that only serves a small number. Then, have sheet cake – featuring the same flavors – served to guests, allowing them to get the experience while you limit your expenses.
9. Consider a Hotel Venue
While hotel venues aren't always the least expensive for the event, going that route may save you time, energy, and money if you have a lot of out-of-town guests. Along with potentially a free night of accommodations for the happy couple, many hotels will offer discounted room rates for your visitors. If you were going to cover that cost, it could make the hotel option worthwhile.
Plus, you don't have to stick with large chain hotels. A bed and breakfast may be able to offer a similar deal. Some allow couples to secure entire properties for a weekend, for example, giving them rooms for guests and access to spaces to get ready, prepare meals, and more.
10. Request Services in Lieu of Gifts
If you have family members with certain skills, you may be able to ask them to assist with your wedding in lieu of a gift. Whether this is wise depends on the typical rate the person could charge for their capabilities, as well as if it prevents them from enjoying the festivities. However, it's worth considering if the request is reasonable from a time and money perspective and won't stop them from celebrating your union during the entire event.
Do you have any other practical wedding tips that you feel can help couples? Have you used any of the tips above and want to discuss your experience? Share your thoughts in the comments below.
Read More: