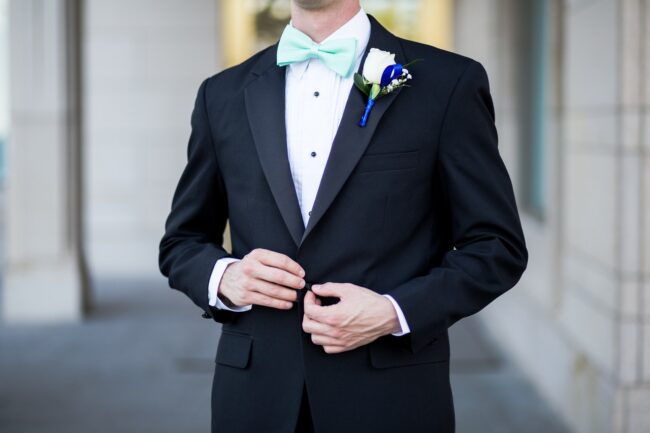 When couples think about wedding attire, they typically focus on bridal gowns and bridesmaid dresses. However, the cost of groomsmen suits can also add up quickly, particularly if you don't head to the right store. Fortunately, there are solid options for couples looking to keep their spending under control. Here's a look at five budget-friendly places to find groomsmen suits.
1. Suit Shop
If you're open to purchasing the groomsmen suits, Suit Shop is an option worth exploring. Suits and tuxedos are available. You could spend as little as $199 for a suit, making it a highly affordable store. Plus, Suit Shop takes an inclusive approach to fit, sizing, and style, which can simplify things for some wedding parties.
At the Suit Shop, you can also find options for children. For example, if you have a ring bearer that also needs to look their best, you'll be able to get it covered while you're handling your groomsmen suits.
2. The Black Tux
For couples and wedding parties that would rather rent, The Black Tux is a site that's worth exploring. The company offers more than 50 options, representing a range of colors, patterns, and fabrics. Plus, there are fit specialists who can help you along, either online or at your nearest showroom.
The Black Tux also has tracking features for couples. They can assign looks to the wedding party and monitor everyone's progress online. For added convenience, shipping is free both ways, too, so you won't have to worry about a surprise expense when the suits are returned.
3. The Modern Groom
With help from virtual stylists, the Modern Groom makes finding groomsmen suits a breeze. Options are available in classic suit colors, including black, blues, and grays. Each suit is also professionally fitted, so there's potentially no need for tailoring after the fact. If you do need alterations, they'll usually be minimal, such as a simple pant hem.
Plus, while buying is the only option, you can get complete suits for as little as $210 and complete looks – including socks, belts, shoes, and more – for as low as $350. Free shipping is also part of the deal, as well as free exchanges if an item is "untailorable" after arrival.
4. The Men's Warehouse
With stores all across the country, Men's Warehouse is an option every couple should consider. Along with rentals, you can often get solid prices on purchases, particularly if you pick up the suits during a sale.
If you head to a local store, you can also get fit assistance with rentals and purchases. Plus, you can pick up anything else you need to complete the outfit, including shirts, shoes, ties, and more.
5. Amazon
Practically anything is available on Amazon, including affordable but high-quality groomsmen suits. This is another option where an outright purchase is the only approach. However, since you can find suits for as little as $200 and with Prime Wardrobe available on many styles, Amazon is worth considering.
In most cases, you'll want to be a savvy shopper if you go this route. Stick to Prime items with reviews above four stars, read reviews carefully, and make sure the return policy works in your favor. Additionally, order well enough in advance that returns and replacements are manageable without having to worry if the next one will get there on time.
Do you know of any other budget-friendly places to find groomsmen suits? Have you used any of the options above, and what to discuss your experience? Share your thoughts in the comments below.
Read More: