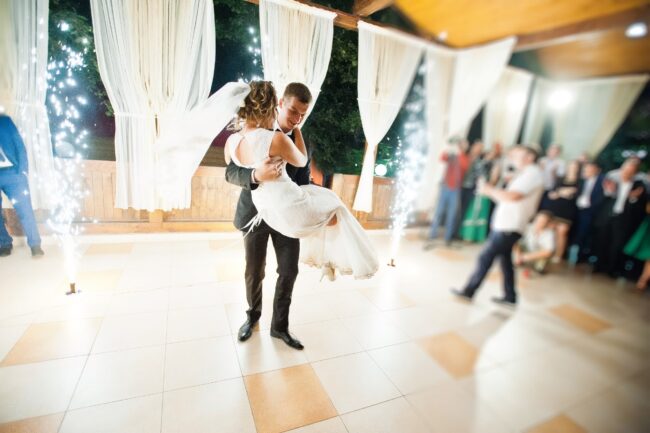 While some brides are comfortable staying in their wedding dress during the reception, others may want a second look. In some cases, it's because their bridal gown isn't conducive to dining or dancing. In others, it's simply a chance to make an impact when arriving. Regardless of the reason, ensuring your reception dress doesn't break the bank isn't essential. If you want to keep the cost down, here are some tips to help you save on a reception dress for the bride.
Choose a Convertible Wedding Dress
In some cases, you can get a new look for the reception without technically having to buy two separate dresses. Some wedding gowns are actually convertible. For example, they may have a detachable ball gown skirt that, when removed, reveals a shorter skirt beneath. Similarly, skirts that bustle can allow you to pick up and secure a longer train, making the dress easier for dancing.
Before you go with two dresses, see if a convertible wedding gown could meet your needs. While you might pay more for this dress, it could cost less than buying two separate ones.
Get Both Dresses at One Shop
While it may not work if you're purchasing dresses from larger chains, you may be able to save a bit on your attire if you get your wedding gown and reception dress from the same boutique. If you do, you may have more leverage to negotiate, potentially leading to a better price point. However, even if you can't get the price of the dresses reduced, you could possibly get the cost of certain add-on accessories reduced, bringing your total cost down in a different way.
See If a Rental May Work
Renting a reception dress instead of buying one could be a great way to save on the cost of attire. In many cases, it's your wedding gown that will have particular sentimental value, so it's understandable that you may want to purchase it. However, you may feel differently about the reception dress, making it a smart target for renting instead.
Consider Thrift or Resale Stores
Many people don't keep their reception dresses after their big day. As a result, you might be able to find some bargains by exploring thrift or various resale stores. Both in-person and online consignment shops can be great places to start, particularly if you're looking for higher-end pieces. However, even nonprofit thrift stores are worth exploring, particularly those in expensive neighborhoods in larger cities.
Shop Department Stores
If wearing a dress that hasn't belonged to someone else is a priority, don't overlook department stores – both brick-and-mortar and online – when you shop. You can find all kinds of attire that may do the job, as white and cream aren't uncommon colors for a wide range of styles. Plus, the prices may be lower than bridal boutiques, even if you need to take your outfit to a tailor to get the perfect fit.
Do you have any other tips that can help couples save on a reception dress for the bride? Did you use some of the strategies above and want to tell others about your experience? Share your thoughts in the comments below.
Read More: