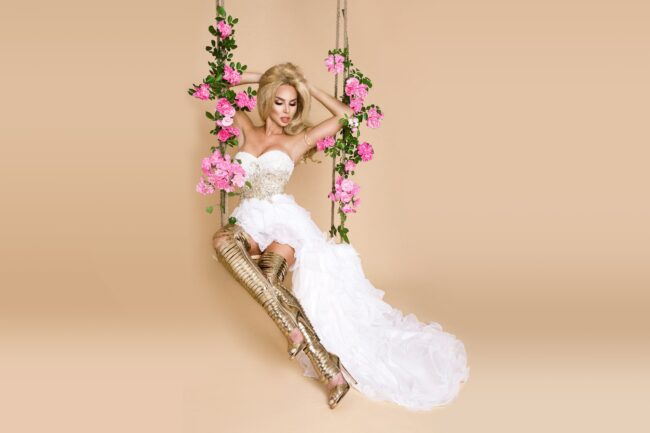 When people think of ugly dresses during a wedding, they typically conjure up images of some unattractive bridesmaid dresses. However, not all wedding dresses are as elegant as one would assume. In fact, one could argue that some are downright ugly. While brides should certainly wear whatever makes them feel beautiful, it's usually best if better taste prevails, but that doesn't always happen. Here's an overview of some insanely inappropriate wedding dresses.
1. The Near-Topless Gown
Low or plunging necklines aren't necessarily uncommon in the world of wedding dresses, and they can be quite attractive on the right bride. However, when a bride's bosom is essentially spilling out of the top of her dress, covering little more than the nipple area, it's possible she took it too far.
A bit of cleavage isn't inherently a problem, but a neckline low enough that any movement could lead to full exposure is often viewed as inappropriate by most. Plus, it could keep a bride from being able to dance or walk around without fear of popping out, which could make it hard for her to enjoy her wedding day to the fullest.
2. Way Too Much Skin
Many wedding dresses allow brides to show some skin strategically. Lower necklines and sleeveless designs are prime examples, as well as some sleeker designs with slits above the knee. Even cutouts can be appropriate when they're in the right spots. The same is true of dresses with shorter skirts, as they're often balanced with more conservative necklines and sleeves.
However, some wedding dresses take something some skin to the next level, exposing far more than most brides would. Along with bare arms and low necklines, they reveal practically all of the leg, as well as a notable amount of midriff. You may even see the underside of the breast, and some designs are slightly sheer, making undergarments visible.
Ultimately, a bit of skin can be beautiful, but when it comes too far, it can become a bit inappropriate.
3. Pregnant Belly Cutouts
There are some breathtaking wedding dresses designed to make pregnant brides look fantastic, offering flattering lines and draping that doesn't conceal a pregnancy but makes the bride look elegant. However, some brides decide to take it to another level, opting for pregnant belly cutouts that draw all of the focus to the pregnancy.
In most cases, the cutouts are oval designs, allowing a bride's pregnant belly to come through the opening and end up on full display. While being proud of having a child on the way is undoubtedly fine, these designs are generally considered inappropriate by the masses.
4. The Near-Swimsuit Sexy Design
Brides have every right in the world to feel sexy on their wedding day. It's a special occasion where they formally declare their love for someone, and feeling attractive should be part of the equation. However, when the "dress" covers little more than a swimsuit would, many would view that as inappropriate.
These designs come in many shapes and forms. Some may look like one-pieces with a boy short design for the leg and tops that cover little more than a plunging halter bikini top. Others may reveal more or less, and some may have closer to a skirted design or a brief cut. The material may also be slightly sheer, though most of these outfits do have extra fabric layers in the spots where it counts.
5. Writing on the Rear
During the early 2000s, Juicy Couture rose to popularity, leading to a trend of wearing tracksuit-style pants with words written across the wearer's backside. While that trend didn't automatically extend into other types of attire – remaining mainly part of the loungewear category – some brides have chosen to create something similar on their wedding dresses.
While some brides may feel that their backside is one of their best features, writing a word across it on their wedding dress will typically be viewed as inappropriate. Additionally, airbrushing a wedding dress may not result in an elegant look, particularly as many wedding dress fabrics aren't well-suited to the addition of ink without issues like bleeding.
Ultimately, it's true that brides should wear whatever they want on their wedding day. What's important is that they feel beautiful, and any design that does that could is a win. However, certain choices will likely result in some comments or odd glances from wedding guests. As long as a bride is comfortable with that and the dress offers enough coverage to make walking around in public legally an option, then they shouldn't let anyone stop them.
Do you know of any other Insanely inappropriate wedding dresses that you'd like to discuss? Do you think some of these wedding dresses aren't that bad? Share your thoughts in the comments below.
Read More: