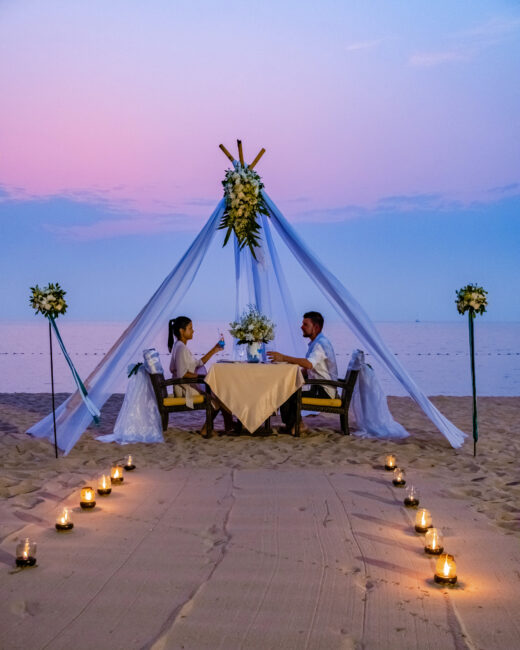 Many couples assume that a luxury beach wedding is going to cost a bundle. Fortunately, that isn't necessarily the case. By planning the event strategically, you can reduce the price dramatically, all while getting an exceptional experience. Here's a look at seven ways to have a luxury beach wedding on a budget.
1. Choose an Off-Season Date
One of the simplest ways to reduce the cost of a luxury beach wedding is to hold your event during the off-season. Precisely when off-season occurs can vary by location, but beaches are usually in peak season during the summer, so it's better to avoid those months if you want to save. Plus, some locations are popular spring break destinations, so that can make parts of March and April off-limits.
While it may seem like that means hosting your wedding during less-than-ideal times of the year, that isn't always the case. For example, if you were considering a Florida beach wedding, the crowds die down in the fall, but the weather can still be fantastic that time of year. As a result, you can save since there are fewer tourists, all while getting an amazing experience.
2. Get Married on a Weekday
As with any wedding venue, choosing a less popular day of the week typically leads to some savings. Weekdays are frequently more affordable than weekends, so choosing a date during the week often makes a notable difference at almost any venue. Just make sure you avoid weekdays which are also holidays, as those can be more popular than other weekdays.
3. Look for City Beaches
When you want to have a beach wedding, you might assume that choosing a venue with a private beach is the only option. While that's worth exploring, as you may find a bargain, don't overlook city-owned beaches.
With a city beach, you may need to handle other aspects of the event, like getting seating and setting up. However, you might only need a permit from the city to hold your wedding on a city beach. Often, those permits are inexpensive, and some are entirely free. As a result, you may be able to secure a spot for your wedding for far less than if you chose a private venue.
4. Don't Over Decorate
One of the benefits of a beach wedding is that you don't need a lot of décors to make the ceremony look fantastic. The view of the sand, ocean, and sky typically does most of the heavy lifting, so you don't need a lot of embellishment to make the space beautiful.
In many cases, some simple white chairs, some flowers, and a nice arch are enough to really boost the ambiance. You could also consider some string lights or faux candles for a little bit of lighting if you're getting married closer to sunset. Anything else may be completely unnecessary.
5. Limit Your Guest List
Generally, it's easier to afford a more luxurious wedding if you have fewer guests. Many of the costs associated with a wedding go up when you need a larger space or need to accommodate more people. For example, you can rent less seating, reduce the number of guests you're feeding, limit the décor necessary, and more.
6. Identify Your Priorities
One thing that can help direct your spending toward the expenses that matter most is to identify your priorities. For example, if having a professional photographer, a cake from a specific bakery, or something similar is non-negotiable in your or your soon-to-be spouse's eyes, you know you need to dedicate the necessary funds to those costs.
Then, after addressing your priorities, you can figure out where you can be frugal without feeling like you're missing something essential. For instance, if flowers aren't your biggest priority, you can talk to a florist about low-cost blooms that come in the right colors, allowing you to get your flowers without breaking the bank.
7. Cut Back on Paper
Weddings can involve a surprising amount of paper. Save-the-dates, invitations, and reception cards can all add up fast. Then, if you have to mail save-the-date cards and invitations, you spend even more.
Instead, embrace digital alternatives. There are many services that let you design save-the-dates and invitations that you can email for a low price or completely free. Some even have features like RSVP tracking, allowing recipients to respond with a click and you to know precisely when they do. That can make tracking everything a breeze, making the planning part less stressful, too.
Do you have any other tips that can help someone have a beach wedding on a budget? Did you have a budget beach wedding and want to tell others what it was like? Share your thoughts in the comments below.
Read More: