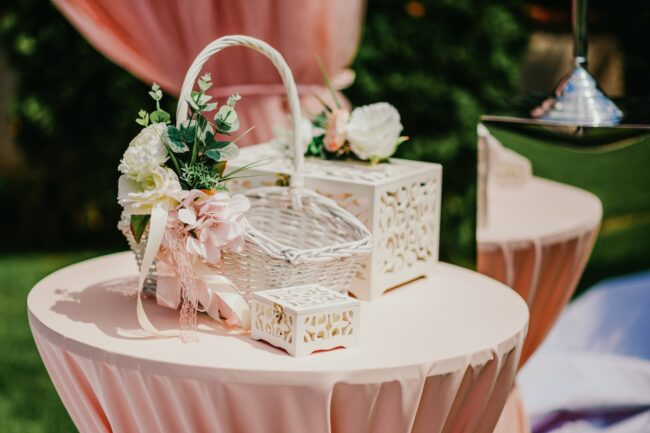 Wedding decorations can be a significant cost for couples. As a result, many budget-conscious brides and grooms want to find high-quality décor that doesn't break the bank. Fortunately, there are several amazing places for low budget, high quality wedding decorations. If you aren't sure where to look, here are some great retailers to check out.
Amazon
The benefit of using Amazon is that you can find nearly anything imaginable for sale on the site. Plus, if you stick to products shipped or fulfilled by Amazon, you can often qualify for free shipping if you're a Prime member. That also simplifies returns, which can be crucial if a product doesn't meet your expectations.
When you start looking for wedding decorations on Amazon, use the filters to your advantage. That allows you to narrow down the results to ensure you'll get free shipping and simplified returns. You can also choose minimum customer ratings to increase the odds that the products will meet your expectations. Depending on the product category, you might be able to limit the results based on color or material, which could make it easier to find precisely what you're after.
Dollar Tree
Most couples wouldn't think to shop at Dollar Tree (or other dollar stores) for wedding decorations. However, if you focus on the right types of products, you can potentially do quite well.
One excellent example is small glass vases, containers, and candle holders. Generally, the quality will be similar to items purchased elsewhere, but the price tag may be far below many other stores. If you look carefully, you may be able to find picture frames that you can use for table numbers, photographs, or inspirational sayings. Small mirrors, glass beads, craft hoops, tealights, and twine might also be available.
Just be aware that Dollar Tree isn't always the lowest-priced option for certain goods. Since that's the case, you may want to comparison shop for certain products at other major retailers to ensure you're getting the best deal.
Walmart
Like Dollar Tree, you can often find some amazing wedding décor items for less at Walmart. Whether you need glass jars, tealights, ribbon, twine, balloons, or a slew of other products, you may be able to get them for less by using Walmart instead of a traditional wedding décor outlet.
Another benefit of using Walmart is the convenience. Most people are near a Walmart retail store, making it an easy place to shop. Additionally, Walmart has a large online selection of products. If you stick with items either sold by Walmart or where Walmart fulfills the order, returns are usually simple, too. As a result, if a product doesn't meet your expectations, you can handle the issue with ease.
Just be aware that the same protections aren't always available through third-party sellers on the Walmart website. As a result, you may want to use filters when searching to ensure you focus on products that come with easier returns and exchanges, just in case.
Oriental Trading
Oriental Trading is an excellent website to check if you need to find low-cost wedding décor. Along with a large wedding section on its site, you can also peruse other party goods if you're looking for quirky or unconventional elements.
Plus, Oriental Trading can be a boon if you need larger quantities of certain items, like balloons, favor boxes, votives, and more. Often, you can get some serious discounts by using the site to buy in bulk, all while having everything delivered straight to your door.
Home Depot or Lowe's
For couples that are open to DIY wedding décor, heading to Home Depot or Lowe's for certain items can be a better choice than using traditional craft stores. You might be able to save on wood, paint, washers, twine, string lights, and much more, which makes this option worth exploring.
In some cases, you can even find art kits that would be perfect for weddings. For example, you might be able to get your hands on blank barnwood plank plaques, allowing you to create customized signs.
As with any options on this list, comparison shopping is essential. In some cases, Home Depot or Lowe's may surprise you. In others, it may not. Ultimately, it doesn't hurt to look, ensuring you consider every place that may help you stay on budget.
Home Goods
Discount, off-season retailers are another excellent option for saving on wedding décor. While you may have luck at stores like Marshalls, Ross Dress for Less, or TJ Maxx, as those stores usually have décor sections, you might want to try Home Goods first.
Home Goods doesn't have the clothing sections you find in the other stores, so you may have a more extensive selection of items that may meet your needs. Just keep in mind that you'll want to act fast if you find a bargain, as there's no guarantee of how long a product will be available in a Home Goods store.
If you don't have luck at Home Goods, then make sure to check out the other discount retailers above. While their selections may be smaller, that doesn't mean they won't have what you need, so keep them in mind.
Joanne's, Michaels, or Hobby Lobby
For a DIY wedding, heading to craft stores like Joanne's, Michaels, or Hobby Lobby make work well. However, their prices aren't always the best. As a result, you may need to plan a bit if you want to use them to save.
First, make sure to sign up for sale emails and customer loyalty programs. That can help you gain access to some pretty stellar coupons. Plus, you'll learn about outstanding sales that can lead to more savings.
Second, don't overlook clearance sections. In the end, you might find the perfect options at bargain basement prices here, so take a moment to check out the selection whenever you cruise through the store.
Do you have any tips that can help someone find low budget high quality wedding decorations? Have you used any of the tips above to keep your costs down and want to discuss the experience? Share your thoughts in the comments below.
Read More: