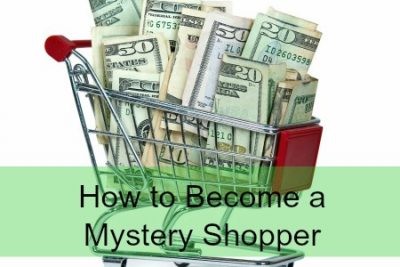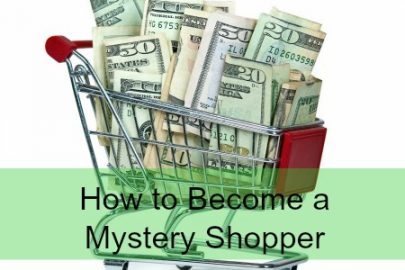 Mystery shopping–it's always been something I was interested in but never actually needed the money badly enough to finally sign up and start doing it.
Until now, that is. Let's start with the basics:
You will

never

become rich mystery shopping.
It doesn't pay all that great.
It's something that you do for fun, and to make an extra buck or two.
You have to actually work at it.
How I started mystery shopping
As for my experience with mystery shopping: I've actually really enjoyed it. I barely started this month, and have already completed 4 shops and earned about $50 (told you it won't make you rich).
But $50 is currently about 1/4 of my grocery budget, so yup, I'll take it!
I also have about 5 more shops scheduled, bringing my total earnings for October over  $100 (and the month isn't even half over yet.)
I actually enjoy it. 3 out of the 4 shops were within blocks of my house. The other, a 10 minute drive. It does take some prep work and you do have to play close attention to detail. But for the most part, it's fun! You get to pretend you're a secret spy and these people don't know you're spying on them!
Tips on how to become a mystery shopper
Search for certified companies through the Mystery Shopping Providers Association. They list assignments for certified companies, but you usually have to sign up for that particular company to apply for the shop.
Get more background information at the Mystery Shopping Forum. This has been a great tool to learn about more companies and get tips on which ones pay better, which ones don't pay at all, etc.
Diversify. You'll have a much greater chance of getting access to more shops (aka assignments) if you sign up with a bunch of different companies. I'm signed up with almost 10. You won't always get all the assignments you want and you have to be flexible.
Sometimes you won't get paid in cash. I know one company that pays a flat fee, but you have to pay for a service. For example, a haircut. You have to pay for the haircut but you only get paid a flat fee like $20, which is supposed to cover the cost of the haircut. If you need a free haircut though, this would work out perfect! Or perhaps you want free breakfast…every little bit helps.
Once you get your first assignment, do everything possible to turn in the best report. One of the companies I work for, rates your assignments. If you turn in a great assignment, they'll let you do more shops. But if you turn in shoddy work, they won't pick you as much unless they're desperate.
Be flexible but don't get desperate. Think if what they're asking you to do is worth your time and gas money. Most shops pay between $8-20. You have to make sure that it's worth it. Lucky for me, they've mostly been a five minute walk from my house, but otherwise it has to be something that I can do while doing errands–not going out of my way just to perform the shop. One of the shops I'm performing is literally across from the street from where I work, and I'll be doing it during my lunch hour!
If you earn more than $600 a year with one company, you'll have to report it on your taxes. So make sure to keep track of how much you're making with each company.
How to Make More Money Online
If you're considering mystery shopping because you need to get out of debt, or simply need to make more money, check out my post on How to Make Money Online for more tips and ways as to how I make extra money.
If you are interested in reading more about mystery shopping, check out our article on making money as a mystery shopper.