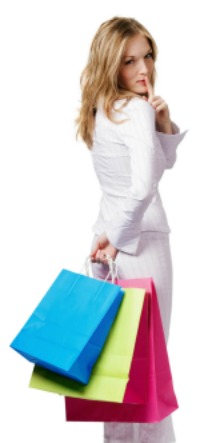 I've spoken about how to become a mystery shopper, but now that I've been doing it for about five months, I wanted to share some of the perks.
In the past five months, I have:
eaten meals at restaurants we can't afford
had my dog's annual vet exam covered
gotten an oil change on the house
received $60 in free groceries
had frozen yogurt at a popular yogurt shop
received $40 in free items at a popular high-end home decor store, on top of being paid
drank several coffee drinks for free at a popular coffee shop
mailed packages for free
tried on $1600 dresses at a high-end fashion retailer
and these are just the ones I can remember!
My proudest mystery shopping moment yet came last week when I went to the mall and made $65 in two hours at the mall, in addition to $40 in free merchandise and then on the drive home, I picked up $20 in free groceries.
Essentially, that's $125 for only a couple of hours of my time, plus about an hour to do all the reviews. Now granted, $20 of the "free merchandise" was because I had two Victoria's Secret free undies coupons they send in the mail. And I'm lucky that this mall has two Victoria's Secret locations.
But the other $20 in free merchandise was to a high-end home decor store that I love but can never afford.
I haven't made a ton of money mystery shopping, but I have definitely benefited from the free perks. Eric and I have been able to keep our monthly dining out budget to under $100 in recent months because of gift cards and restaurant mystery shops.
There are the negatives to mystery shopping:
it's time consuming
it costs some money up front to pay for the oil change, restaurant, groceries, etc, but you

always

get reimbursed in addition to getting paid
the pay is low (most shops pay between $10 and $20)
The very first shop I did I was super nervous about screwing it up. But once you figure out how to perform a shop, they get easier and easier.
This is definitely not something I would do if we had more disposable income or if I weren't trying to save for a honeymoon. Because while it is nice to get perks and dinners for free, it's still work and it still requires some time commitment.
However, if you're a broke newlywed, or are trying to make extra money, mystery shopping would be a good fit. You do have to be a decent writer and have good attention to detail.
Now that I've been mystery shopping for five months, I know which companies are my favorite, which shops I love to do, and when to check for my favorite shops.
If you're interested and want more information, check out How to become a mystery shopper.