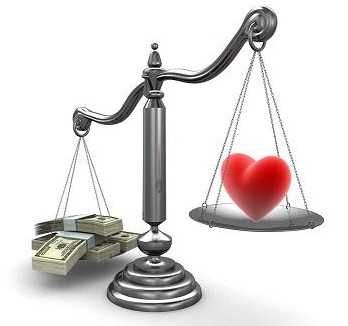 Would you rather be rich and single or poor and in love?
This was the question recently posed by DINKS Finance (Dual Income, No Kids).  This was a good question for me because while  I wouldn't have considered myself rich and single, I was definitely doing well for myself before I got married.




I went out almost every weekend with friends. Trips to Vegas and Cabo were not uncommon. My entertainment budget was spent on drinks, clubs, and bar outings–I was a single twenty-something living it up. And I do not regret it one bit–because if you can be reckless at any point in your life, shouldn't your 20's be it?
Then I got married.
And all of a sudden, we had no extra income to do any of the fun things we were doing before we got married. My single self was living in a three-bedroom townhome in Newport Beach and now my poor married self is living in a shack.
You would think that with two incomes we'd have more money, but two incomes also meant more expenses. Our rent was higher, my food bill tripled, and utilities are expensive. Eric also came with a few thousand dollars in credit card debt, which took us six months to pay off. And in the first few months of marriage when we were still figuring out how to combine our finances, we were easily spending way above our means.
Paying for Eric's education, his travel for job interviews, and all his academy stuff (from registration to books to uniforms) has also caused a hit to our finances.
Fast forward to the present, and we've completely hunkered down on our spending and living a much more budget-friendly lifestyle.
It's been hard to change our ways. There are times I would really love to go to a restaurant without thinking how it will affect our budget. My lifestyle today is completely different from two years ago.
You could say I was more well-off when I was single and I am more poor now that I am married.
But would I change it?
I have told Eric that if I were to do it over again, I probably would have waited to get married until after he was hired as a firefighter. And he completely understands; there's been a big weight on me to provide financially and run the household on my own while he focuses on building his career.
And yet, despite all this, despite everything, I really love having him in my life. He makes my life brighter. He keeps me from being too serious. Except for the times when he's pissing me off, I am always smiling around him. It is a joy when he comes home. He is almost always in a good mood and it's infectious. Whether we're out on the town, or walking to our favorite coffee shop on a Saturday morning, I always have a great time with him. And I can't imagine life without him in it.
So while we may have taken an unconventional path to get to where we are today, I can't say that I would change a single bit of it.
Would you rather be rich and single or poor and in love?