Our 2011 financial goal was to save $8,000 to survive for four months on one income, while Eric quit his job and went to school full-time for the firefighter academy. He graduated from school Saturday and started his new job Monday, so now that we know we'll have two incomes in 2012, we need a new plan for our finances.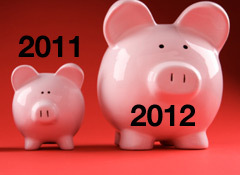 via
Here are some new personal and personal finance goals for 2012:
1. Pay off credit card debt.
We still have roughly $2,000 left on a 0% interest credit card. We plan to pay it off by March, before the 0% special rate disappears.
2. Contribute full match to 401K.
I ceased my contributions this year. There was no company match offered for my first year of employment. The plan was to open a Roth IRA and contribute there, but I never got around to it… anyway, my contributions will start Jan. 1 with 3%–and eligible for the full company match of 3%, meaning I will have the equivalent of 6% of my annual income contributed to my 401K this year.
3. Open Roth IRAs.
As a semi personal finance blogger, it's kind of crazy that I don't have a Roth yet. But we're real people who make mistakes. And sometimes it takes us a while to get with the program. We hope to open these asap, and while we have no plans to max out the contributions (I believe the max contribution is $5,000 each), we hope to at least start somewhere.
4. Get eye surgery.
I hate my contacts. I've been wanting to get my eyes fixed forever, but the price tag was too hefty (around $5,000). 2012 is the last year when you can contribute $5,000 to your Flexible Spending Account, which is funded with pre-tax income through your employer. In 2013, your max contribution will go down to $2,500. So in order to take advantage, I had to take the plunge. With health insurance included, it will cost me about $500 each month. It's expensive, but I hope, well worth it, too.
I can't take it anymore. No dishwasher. No real bedroom. No washer dryer. Tiny kitchen and even smaller bathroom.  We need to move. We know we can't live anywhere else without digging into our savings, but sometimes quality of life outweighs saving contributions.
6. Pay off at least one student loan.
I have two student loan payments. The first is consolidated, and the second is comprised of 5 smaller student loans. My goal is to pay off at least 1 of the 5 smaller student loans.
7. Make $2,500 in side hustle income.
I have really enjoyed the side hustle. And it's wonderful knowing that the money I'm making will contribute to our travel dreams without affecting our bottom line.
8. Go on a honeymoon
We have to go on a honeymoon this year. We just have to.
9. Save $10,000
We opened ahouse down payment savings account but it is practically depleted right now. We need to increase our savings again if we plan to buy a house one day.
10. Continue growing the blog
It has been so wonderful to watch my little blog grow. I hope to continue to increase my readership and expand the blog.
11. Eat healthy, lose weight, start running again
Last year, around this time, I realized I had gained 20 pounds since getting married. This past year, I've been working on losing it, but my biggest problem is I love food, and I've only lost about 10 pounds. My goal for 2012 is to lose those last 10 pounds, start running 2-3x a week and keeping doing barre, which has been amazing for reshaping my body.
12. Be nicer to the husband
I could work on increasing my patience, and having more compassion.
*Thanks to Debt Free by Thirty for the inspiration of this post*
What are your goals for 2012?