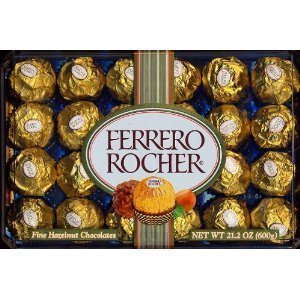 You know that old saying: "It's the thought that counts?" It's complete crap. People only say that to make themselves feel better about somebody giving them a crappy gift in the first place.
It should really be revised to: "It's the meaningful thought that counts." Too many people take this saying to mean that just because you get a person something–anything–that that somehow excuses you from putting any significant amount of thought into a gift.
I had an ex-boyfriend once who was the worst with gifts. A few times, he didn't have enough cash to even buy me a gift. Then one time, he gave me a box of Ghirardelli chocolates.
What's wrong with that, you ask? Well, I hate Ghirardelli chocolates. Like, can't stand the stuff. I don't really like truffles, period. Give me a box of Sees' Candy Nuts and Chews anyday, but don't give me Ghirardelli.
You may try and reason that he didn't know that I hated Ghirardelli with such intense passion, but let me assure you–we had dated approximately 3 years at this point. He knew.
In fact, he handed me the box by saying "I know you don't like Ghirardelli chocolates, but I know you love Christmas, and it's wrapped in a Christmas bow!"
I didn't know whether to laugh or cry. Would the appropriate response be: "Um, thank you? Now I can just sit here and admire the Christmas bow on a box of chocolates I won't eat?"
But you have to give the boy points for trying, right? Otherwise I just sound like a callous bitch. Except two months later, for Valentine's Day, he bought me an underwear set from Victoria's Secret, which included a thong–I hated thongs at the time and never wore them.
I kid you not, he handed me the gift by saying "I know you don't like to wear thongs, but…" Apparently his girl friends at the time helped him pick it out.
I digress.
Eric and I are not big on gifts. In fact, we rarely do them. Not for birthdays, not for anniversaries, I don't even think we did Christmas gifts this year.  It's not that we're un-sentimental like that (is that even a word?), it's just that we much prefer to spend money on experiences rather than things.
However, every now and then, it's great to go out of the norm.
Last month, Eric and I celebrated our two-year wedding anniversary. It was less than a week after Eric fractured his back playing soccer. We had made plans to have dinner at this fancy steakhouse, but ended up having to cancel since Eric could barely sit for an hour at a time without needing to lay down.
I was a bit bummed, but what are you going to do? I had resigned myself to accepting that we would be spending our anniversary at home on the couch.
So imagine my absolute surprise when I came home and found a card and a box of Ferrero Rocher chocolates–my absolute favorite!– on our dining table.
Eric could barely walk at this point–like seriously 10 baby steps at a time–how the heck did he get me a card and chocolates?
Turns out, he texted all his friends to see if anyone was available to drive him to the store so he could at least get me something for our anniversary.
The card and chocolates didn't cost much. Maybe $10 tops. But it was seriously one of the best gifts I've ever received, because I knew my husband had put such meaningful thought into the gift.
Has someone ever surprised you with a truly meaningful gift?