I like to live vicariously through other people's weddings. Since Eric and I didn't have a big wedding, I like to take advantage of the people who can afford large weddings. You get to enjoy all the beauty and fun of it without having to pay the bill or feeling the pressure of making sure everything is perfect. It's a win-win, in my opinion.
This weekend, we got to enjoy this breathtaking scene: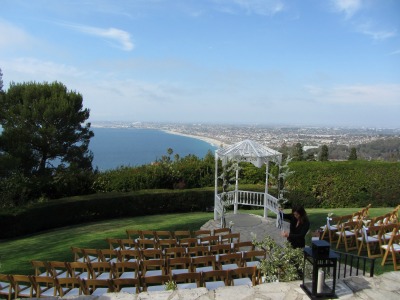 And to just show you what a little hair and make up can do to you, here are my before and afters:
I spent $45 to rent my dress from Rent the Runway. LOVE! I figured it would be better to just rent a really nice dress rather than buy a semi-decent dress that I probably wouldn't wear again (because everyone knows you can't wear the same dress to a wedding twice! That's what happens when your same group of friends all go to the same weddings 😛 )
So you know who else was at this wedding? My ex–some of you may remember him as Church Boy.
Here is a quick recap: Eric and I first got in contact in late November through email when he found my old blog. I had broken up with my ex in early November. About four months later, Eric and I were married. I actually received a phone call from this ex when he found out Eric and I were getting married–he had a lot of questions, mainly "how could you be getting married so quickly?" It was valid.
Anyway, this ex remained friends with my group of friends and we've run into each other at mutual friends' parties. However, alcohol was never really involved, and the interactions between me and him and me and his wife were limited at best.
But the best part of weddings is the Open Bar. Seriously people, do everything possible to get the alcohol flowing because those are the BEST weddings.
Well, the alcohol was definitely flowing at this party. And pretty soon, Eric and I found ourselves conversing nonstop with this ex and his wife. And the really really crazy part? I really, really liked her! And Eric really really liked my ex. I mean, we were hanging out together the entire night.
The irony never really left me. I know I have a pretty firm and traditional stance on being friends with exes, that most people my age wouldn't agree with. And while we probably won't be going on any double dates anytime soon, I actually do look forward to the next time we get to hang out at a mutual get-together.
And yes, his wife has friended me on Facebook. So while I may not be friends with my ex on Facebook, I am definitely now friends on Facebook with his wife. Which just goes to show that you should never say never to any situation.
p.s. don't forget to enter the batcrap crazy giveaway for Zaggora HotPants! They look amazing!
Join our newsletter
Get the latest content straight to your inbox.