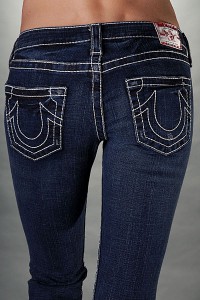 Back in my ignorant youth (you know, like less than five years ago), I used to be obsessed with brand names.
There wasn't a brand name I didn't like. I would go through phases where I would buy a lot of brand names for one particular item, like sunglasses, before I moved on to my next brand name item obsession, like jeans.
I remember at one particularly low point, waiting in line at a nordstroms, prepared to spend close to $400 on a pair of Rock and Republic jeans–and the thing is, I didn't even LIKE the jeans that much, they didn't fit quite right–but I was addicted to having that brand name.
My brand name jean obsession was ruthless–I wouldn't even look at a pair of non-brand name jeans. Gap? Puh-leaze. I acquired more jeans than I could wear on a regular rotation. Seven for all Mankind, Citizens of Humanity, Joe's Jeans: I wanted them all.
And another embarrassing factor, that I really can't believe I'm about to share, but I wouldn't buy the jeans unless the brand was prominently displayed on the ass. You know what I'm talking about. All those designer jeans have some defining mark splashed across your butt that lets everyone know: "I'm the dumbass who spent $200 on a pair of jeans."
After my jeans phase, I started on sunglasses. I bought three pairs of brand name sunglasses. But, everyone knows I'm notorious for being clumsy and breaking things. I would either break them or lose them. And spend another several hundred to replace them. This went on for a while.
Honestly, my obsession with brand names didn't end until I got married. And it took me a little while to wean myself off. Back when I was single, I used to go shopping at the mall all the time; now, it takes Christmas or a special occasion to make myself set foot inside of one. My wallet and sanity have both thanked me.
Looking back now, I know that my obsession with brand names stemmed from my own insecurity of feeling like I was less than others. Many people in Orange County, CA come from affluent backgrounds. Brand name cars fill the streets. By being able to at least dress the part with my brand names jeans, sunglasses and purse, I felt like I could fit in.
After I got married, I had to admit to myself that I could no longer afford these items. And to be honest, I could have paid off my loans a lot earlier had I not spent so much money on material items.
It's been more than three years since I bought a pair of designer jeans. My favorite jean that I wear now are actually from the Gap. Go figure.
Losing the ability to afford high-end items made me take a hard look at myself. Living in a shack and having to invite our friends over took a LOT from me, because I had to really suck in my pride and admit that this was the best that we could afford, that we had to make sacrifices for our financial well-being.
These days I am more obsessed with saving money than spending money. Whenever I get a compliment on something I'm wearing, I say with pride "TJ Maxx, $10!" or "I got it at a thrift store for $20!" Our new place is filled with a mixture of second-hand items and cheap finds and I'm not at all embarrassed. Our sectional couch? $150 on Craigslist.
When I see someone driving an older car, I always think something to the effect of: "How awesome of them for being so frugal and not giving in to peer pressure to purchase a high-end expensive car!"
To me, being frugal is the new brand-name obsession.
I'm happy with how far I've come and how much progress we have made in the past three years.
Are you a brand name fanatic? Do you believe that frugal is the new cool?
image source