Who doesn't like having a pearly white set of teeth? I know I do!
The kind folks at Smile Brilliant! are offering a set of teeth whitening trays to a lucky Newlyweds on a Budget reader.
We all know how expensive it is to get your teeth professionally whitened at the dentist. Those procedures can cost hundreds of dollars and are usually not covered by insurance.
Smile Brilliant! Teeth Whitening Trays are pretty much the closest thing you can get to a professional teeth whitening service without the cost normally associated with it.
The Smile Brilliant Kit comes with molds (they even include an extra in case you mess up). The process is very simply and you just follow the steps to mold the trays to your teeth. You then ship off the molds to the lab (in a pre-paid envelope provided to you), and within a week you get your teeth whitening trays that are specifically tailored to your teeth!
Using the sensitizing gel and the whitening gel, you place them on your teeth and let sit for anywhere between 30 mins to an hour or even longer. You can do plenty of other things while you wait for your tray time to be done. Customers report awesome results within seven days.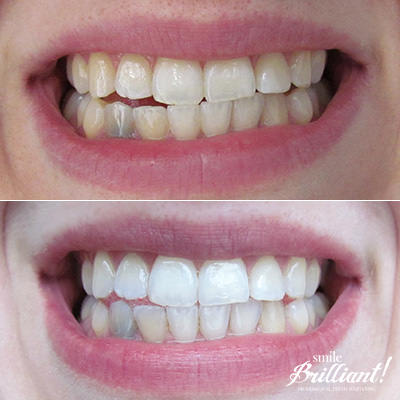 Not satisfied with your results? Smile Brilliant! offers a 30-day money back guarantee. If you don't see that smile brighter within 30 days, they'll give you 100% of your money back, no questions asked.
You can see more examples and reviews from real customers here.
Enter the contest below to win a free teeth whitening kit from Smile Brilliant!