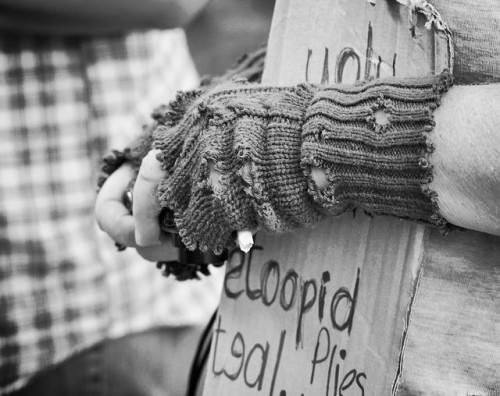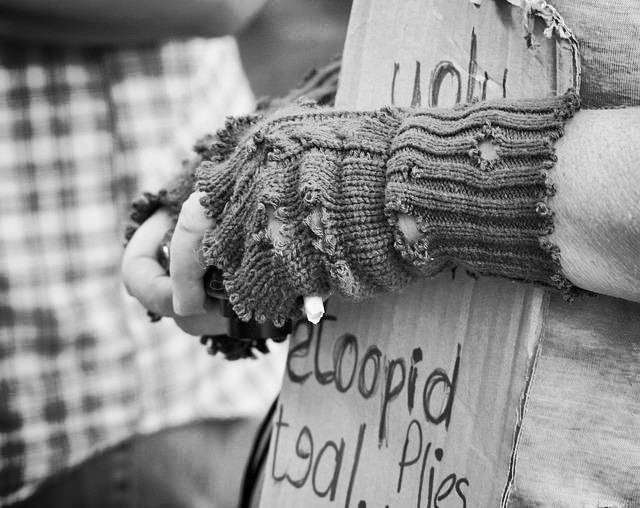 When I was about six years old, I remember going to Tijuana with my parents and taking my "purse" full of pennies. As we walked around the town—it was a lot safer back then—I would put a few pennies in each beggar's Styrofoam cup.
While waiting in that ginormous car line to cross the border from Mexico to the U.S., I would see children my age selling Chiclets, trying to wash cars, or begging. Being six, I felt so helpless. There were all these children suffering and there was nothing I could do to help them, so I gave them my pennies.
As I've grown, I've become hardened to poverty. I grew up in a city that many consider to be the ghetto of Orange County. And with that, I saw a lot of abuse of the system.
I knew of people who had children so they could keep getting tax benefits, even though they could barely support the ones they had. I knew of people who lied to continue to receive benefits. I knew of people who got plastic surgery but couldn't pay their bills. I knew of many, many, many people who drove brand new high-end cars, but were behind on their mortgage.
These weren't isolated incidents. It was rampant, prevalent, and it was everywhere.
Seeing this abuse first-hand has led me to be very cynical when it comes to giving to others.
I scoff, roll my eyes, and laugh in my head, when I see people thinking they're doing good by helping the poor in my neighborhood.
These people don't want help, I think, they want to be poor.
Essentially, I felt that people were purposefully keeping themselves in their situation. While there are cases of people who work hard and move up, and there are also cases of students studying hard and getting scholarships, the reality is that these cases are few and far between, and it is much more common for people to be complacent with their situation and to figure out ways to cheat the system so they can continue to receive government benefits.
I was so cynical, so firm in my beliefs that we should not help these people, that I would often mentally scorn people when I saw them give to the homeless.
Don't do that! That will just keep them begging!
Without bringing religion or politics into this discussion, I will fully admit that my cynicism went against everything I truly believe.
Several months ago, I was riding with a colleague when she saw a beggar at a stoplight. She reached for her purse, pulled out some bills, handed it to the man, and said "God bless."
I admonished her—"you know he's just going to use it for booze," and she told me it didn't matter. We never know what someone's situation is, why they got into that situation, or what they're going through in life, she said.
I didn't agree with her.
There have been times where I have tried to give food to a homeless man to be told no, they wanted cash. I have tried to give a protein bar to a homeless man to be told no, he didn't want that. They just want cash, and they want it for booze.
It's stories like this that make us all feel okay for not helping out our fellow man:
Since that ride with my colleague, I have seen beggars twice now, and twice I have given them money.
Before that, I can't even remember the last time I gave money to the homeless.
I went through a lot of back and forth mentally when I saw a homeless man: Should I give money to him? What will he do with it? Why does it matter? But in the end, I have tried really hard on working to be a more compassionate person and so I decided to let compassion win in this case.
I don't think that giving money to someone who may likely use it on booze is going to change the world or anything, but like my colleague said–I have no idea what they are going through. Perhaps they were dealt a really shitty card in life–is it fair that I got a great family and that person didn't? That I had a very strong support system and that person didn't?
Should we ever kick a person when they're down?
I don't have some strong statement as to why I started giving money to the homeless.
Frankly, I ignored them before. And now I choose not to.
Either way, I feel like a better person because of my decision to help rather than to ignore even a small fraction of humanity.
I 99% believe that I am simply being a sucker and that $2 won't help them out in any way, but I 100% believe that I would rather be a sucker than to turn my back on my fellow man.