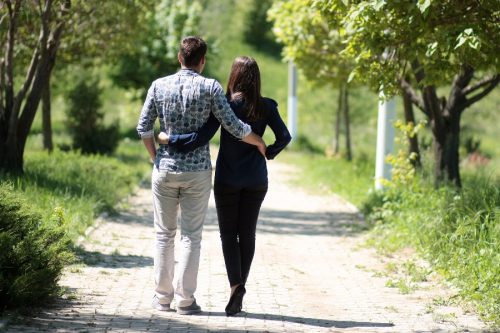 Planning a wedding can be a hectic process. My husband and I had a shorter engagement – we were engaged in September, and married the following year in May – so I can't even imagine having to deal with the pressure of planning for 12+ months straight. When you are planning a wedding though, it can seem like some things are just bound to go wrong. For us, my husband actually got laid off just a few months before our wedding.
We not only had regular bills and expenses to pay, but we also owed money to wedding vendors as well. Figuring out how to deal with an unexpected layoff can be hard. Here's how we dealt with an unexpected layoff while being engaged and a few tips to help you cope with this sudden change if you ever find yourself in a similar situation.
Apply for Unemployment
When you are laid off, it's important to apply for unemployment almost immediately to get the ball rolling as it could take a few weeks to receive any benefits. That's a long time to go without any income if you can't find a new job right away.
Each state has their own guidelines and application for unemployment benefits. Find out what your state offers by doing a simple search online.
We Created a Bare Bones Budget
When my husband texted me that he had been laid off abruptly, I left my desk at my job and went out to my car to call him. I reassured him that we'd get through it and be okay, even though I didn't quite know how just yet.
The first thing I told him to do was create a bare bones budget. I wasn't sure if I could support us with the income from my job and freelancing alone but by creating a basic budget of his absolute needs it gave us a better understanding of how much we needed to get by each month. We started trimming less important items from our budget to lower our cost of living temporarily until we figured out how to replace his income.
I Asked My Husband to Call All His Lenders
In addition to create a bare bones budget, I recommended that my husband call some of his lenders like his student loan provider to see if he could put his loans into deferment. If it really came down to it, we would have to choose buying food and paying our rent over paying his student loans, but I didn't want to just let them go because that wouldn't be good either.
Since he had federal loans, he was able to apply to put them on hold. He also called his medical insurance provider to let them know he was laid off and he if they could lower his premium for the time being.
We Immediately Started Looking for New Jobs
Yes 'we'. We were in this together. My husband literally applied to at least 25 jobs the week he got laid off and updated his resume. I also searched for leads for him. The way we saw it, the sooner he got back to work, the better.
A Happy Ending
Even though our wedding was already booked by the time my husband got laid off, we probably would have went into survival mode and seen if we could postpone the wedding or even borrow some money from family to get able to get by. However, we didn't have to resort to those options because my husband's old manager called him back about two weeks after laying him off stating how he felt bad about the situation and their lack of funding and offered him another position with different duties.
It wasn't the best job, but my husband took it for the time being so we could continue to have a positive cash flow. We ended up covering all our wedding expenses and getting married on the original date we chose, and now my husband has landed a much better position at a new, more stable company so all is well financially for us.
I understand now that layoffs are unexpected and can happen to anyone at anytime, so we now save heavily to make sure we have a large enough emergency fund. I'd advise any couple to do the same because you never know what could happen.
Have you or your partner ever been laid off? How did you handle the situation?