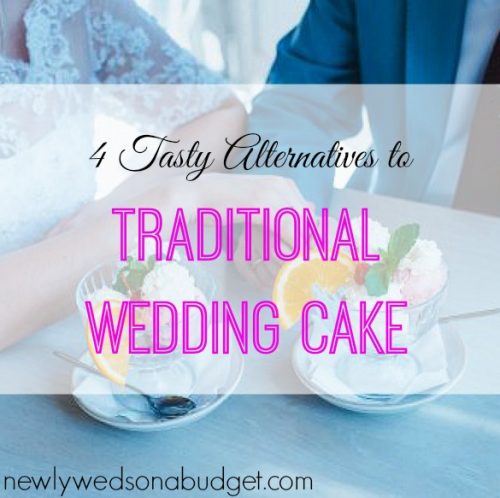 What's a wedding reception without the cake? Well, if you're not a big fan of cake or the price that comes along with it, you may be in favor of ditching the tradition and serving a different dessert at your wedding instead.
When my husband and I went on cake tastings for our wedding reception, we noticed how pricey wedding cake was seeing as it was priced by the slice. The average price per slice of cake it around $3.50. If you're inviting 100 guests, the cost of your cake could really add up not to mention the add-on expenses if you choose something more elaborate and less basic.
In the end, we settled with cupcakes which were delicious and ended up being $2.00 each. We also ordered some mini cupcakes which were even cheaper and our guests seemed to really like them.
While having cupcakes is a great alternative to traditional wedding cake, if you'd rather do away with having cake in general, there are quite a few other options you should consider. Here are 4 tasty and cheap alternatives to wedding cake.
1. Ice Cream
My husband actually loves ice cream more than cake so if we didn't have cupcakes at our wedding, I'm sure an ice cream bar would be the next option. This is a great idea especially if you're having a summer wedding. You can choose 1-3 different ice cream flavors, then let your guests choose toppings to create their own sundae. Or you can just serve ice cream in cones. Either way, it will be tasty and refreshing.
2. Donuts
Donuts are super cheap and taste just as good as cake. They're also easier to manage and clean up than ice cream. You can ask one of your favorite bakeries or donut shops to cater your wedding for dessert. Mini donuts are also a hit whether glazed, powdered, chocolate, etc. You can stack different flavors of donuts on a cake tier to look like a cake and even add a cake topper on the top layer for pictures.
3. Pie
If you love pie more than anything, consider doing a pie dessert table at your wedding instead of cake. You can order a variety of pies or just one kind. If you're having a summer wedding, you can try a mixed berry or peach pie. If your wedding is in the fall or winter, you can try pumpkin or apple pies.
Some bakeries at popular grocery stores like Whole Foods, WalMart, and Costco make delicious fresh pies for cheap so it wouldn't cost much to feed all your guests this yummy dessert. Plus, there are no fancy extra elements to worry about like with a traditional wedding cake.
4. Cookies and Milk
Sometimes, you don't need to overthink it. This classic childhood favorite will be the perfect comfort food for your guests. Serve warm assorted cookies with a cold glass of milk topped with a colorful paper straw and it will satisfy everyone's sweet tooth.
Think Outside the Box
Wedding cakes look beautiful and act as the epitome of a traditional wedding, but sometimes it's okay to think outside the box too. If you're less worried about visual elements and like the taste of other desserts better, feel free to stray away from traditional wedding cake and try a different dessert at your wedding.
You'll be more satisfied and in most cases, you'll save a ton of money as well.
Do you favor any of these desserts over traditional wedding cake?