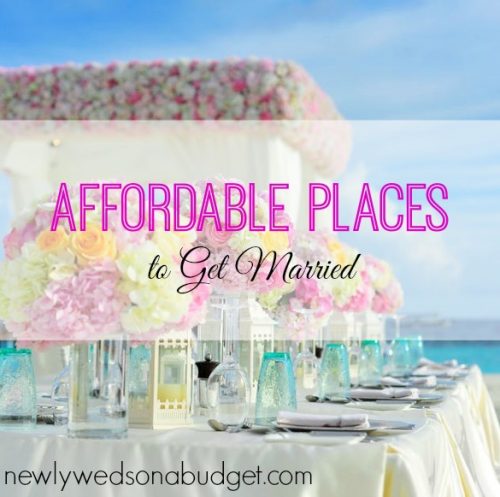 The location and time of your wedding are some of the most important details. That being said, the price of your venue can easily take up half of your entire wedding budget. If you have your ceremony at an affordable location, that could cut your costs significantly.
Most people don't realize those wedding ceremonies are extremely short. Ours lasted about 30 minutes so it made no sense to spend thousands of dollars on the ceremony. If you have a similar perspective, consider some of these options for affordable places to get married.
Churches
If you or your partner are a member of a church, ask them if you can have your wedding ceremony there. Some churches may charge a small fee or some might not charge at all if you actively support and contribute to the church. Plus, you may rent decorations from the church and ask one of your pastors to officiate your wedding.
In Someone's Backyard
Do you or your family members have a large backyard? Having an intimate backyard wedding ceremony allows you full creativity to set the tone for the environment and control the smallest intricate details. With a backyard wedding, you may not have to pay anything to book the actual ceremony, but consider expenses like renting and purchasing equipment and decorations, which could add up.
Outside
Continuing with the outdoor theme, having an outdoor wedding can save you money, but it depends on the specific location. Perhaps, you may reserve a local park with a beautiful gazebo area for the day if you are planning a summer wedding. Many people reserve public parks during the summer for birthday parties, family reunions, etc. Ask city officials what their rate is for a daytime event, before disclosing that you would like to get married then.
See how much their 'wedding rate' differs from their normal event rate and see if their prices will work with your budget.
Barn or Farm Wedding
If you prefer to get married indoors, a rustic barn wedding may appeal to you. There are many farms all over the country that rent their barn space for weddings. If you live in a more rural area and know someone with a barn that you can convert to a dazzling wedding venue, that's great, but odds are, most of us don't have that option.
Therefore, you must select a 'barn venue' that is basically a private venue designed intentionally to accommodate barn-themed weddings. Barn venues can be affordable, depending on where there are located and what is included.
State Park
State parks are fun for hiking trips and camping, but you might even want to consider getting married at one if the price is right. This WikiHow article explains exactly how to get married at a state park, but one of your first steps should be to call around and compare pricing.
Choosing the location for your wedding ceremony is a very personal decision but you don't have to pay an arm and a leg. Consider what ideas you have and use the ones mentioned above as a foundation so you can get creative and explore all your options.