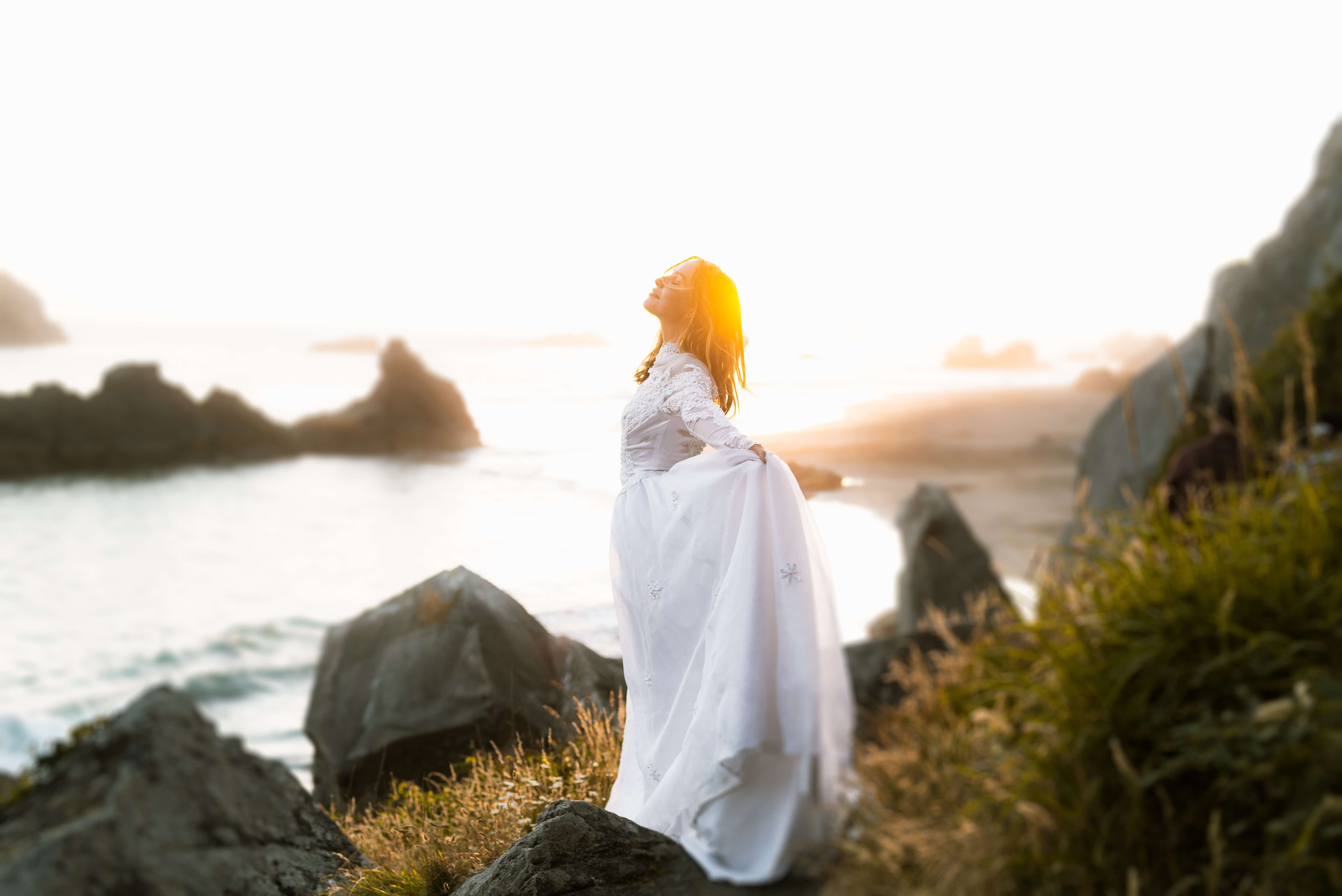 Many couples toy with the idea of eloping before they get married. This is especially true if wedding planning has gotten stressful. An elopement often seems easier to manage. However, even if the thought of eloping is enticing, not all couples are sure that it is right for them. Luckily, there are some signs that suggest an elopement might be a better idea than you initially realized. Here are five indicators that eloping might be for the best.
1. You (or Your Partner) Can't Stand Being the Center of Attention
When you get married, all eyes are usually on you. For individuals who consider themselves introverts, having to be the center of attention for several hours is anxiety-inducing.
If the thought of saying your "I dos" in front of tens or potentially hundreds of people leaves you nervous or seeking an exit, then eloping is a way to avoid all of the drama. After all, a wedding should be as comfortable as it is magical. So, if tons of people staring at you isn't your or your partner's idea of a good time, consider eloping.
2. Your Wedding Budget is Incredibly Limited
Weddings can be expensive, often crossing well over the five-figure mark. For some couples, paying that much on a single event just isn't realistic. At times, even those who can afford it can't stand the thought of spending that much on the celebration. These are the couples that  voluntarily shrink their wedding budget.
If you want to spend as little as possible, eloping can be a smart move. You don't necessarily have to leave your hometown to elope.  You don't even have to leave your home. There are officiants that will come to your home and perform the ceremony for just the two of you. You could also combine the wedding with a honeymoon trip to save some money and still celebrate your union.
Since guests aren't a factor in an elopement, you have the ability to pare down your budget dramatically. That's why, if the cost of a wedding is out of your reach, it's a great option.
3. Planning a Big Wedding Is Too Much Stress
Some people genuinely enjoy planning their wedding, nailing down each detail one by one to create their vision of a perfect day. However, plenty of brides and grooms despise all of the work that goes into preparing for their big day, leaving them disenchanted by the whole process.
If planning a big wedding causes a substantial amount of stress, or the payoff of the big day isn't enough to balance off the work in your eyes, an elopement might be right for you. It takes a lot less time and energy to elope in most cases, and the event can still be quite special.
4. You and Your Partner Would Rather Focus on Each Other
When you plan a large wedding, the bride and groom typically have to spend time with a ton of other people. You have to acknowledge the friends and family members who came to the event, usually chatting with most of them for at least a few minutes. In the end, that means you and your spouse don't commonly have much time left to spend with each other.
If you would rather your wedding be a moment that is all about your new bond as a married couple, then eloping may be the way to go. You won't have to focus on anyone but each other as there won't be a crowd of people expecting to be entertained or taking up all of your time.
5. You Are Too Busy to Deal with a Big Wedding
At times, a couple wants to get married, but they can't afford to put their life on hold to make a massive event happen. Planning a wedding requires a lot of time and attention, as you typically have to meet with service providers, tour venues, order items, get invitations addressed and mailed, and a ton more.
Plus, the big day itself isn't just a few hours of partying. Most weddings require a rehearsal at the venue (often followed by a rehearsal dinner). Then, you may spend hours just getting ready for the event.
If you have out of town guests who arrive more than a day before the wedding, you may have to spend time with them too in the days coming up to the wedding. When you examine all that it takes to pull a big wedding off, it can be a significant time suck.
For couples that can't afford (or don't want to) take time off work to handle the process or just have other ways they would like or need to spend their time, eloping is substantially easier to manage. While you do need to handle some activities in advance of the big day, like getting your license and choosing where you'll get married, you can avoid the vast majority of the work and still end your wedding day as a married couple.
Ultimately, eloping is a solid option for couples. When all is said and done, the important part is handled. You become a married couple, which is really what it is all about. Plus, if you crave a big party later, there is nothing that says you can't throw a shindig and renew your vows on a milestone anniversary.
Did you elope? Tell us why in the comments below.
Read More: