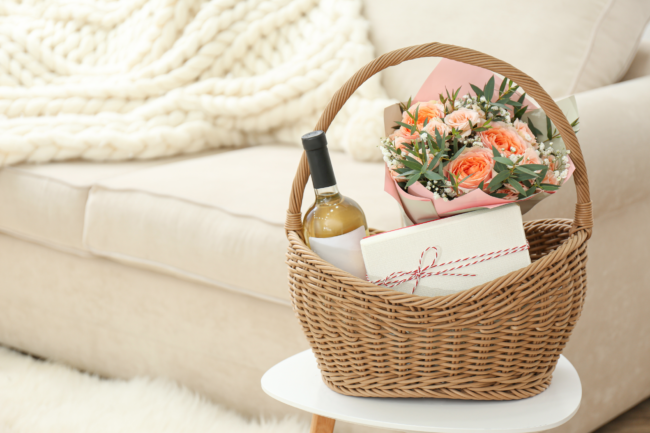 If you're looking for a great gift for a soon-to-be or recently married couple, newlywed gift baskets are a fun choice. You can get baskets that are already curated or create one on your own to make sure it fully aligns with the couple's interests and tastes. Ultimately, the options are near-endless, but there are some classic choices that work well for a wide range of couples. If you aren't sure where to begin, here are some of the best gift baskets for newlyweds ideas around.
Breakfast (or Brunch) Gift Baskets
If you're looking for a fun, casual newlyweds gift basket, consider putting together a breakfast or brunch gift basket. You can include pancake mix, gourmet coffee, flavored maple syrups, and similar options. If you go with the brunch theme, adding a bottle of champagne and two flutes can be a nice touch. Then, finish it up with a gift card to a local grocery store, allowing them to get food items that aren't gift basket-ready, like bacon and eggs.
Adding a pair of coffee cups to the basket can be a lovely option. Get customized ones that can represent the couple. You can have their names added to the mugs or go with a simple monogram.
Wine and Chocolate Gift Baskets
For something a bit more romantic, consider a wine and chocolate gift basket for the newlyweds. When you pick the wine, you can go with local wineries or choose a bottle or two from vineyards near their honeymoon destination, as both can be a fun way to explore something that they may not try otherwise.
With the chocolate, it's hard to go wrong with authentic Belgian chocolate. You can either stick with a single flavor or get a sampler. Make the gift basket a wine bucket so that they can chill their wine (if needed). Plus, a wine bucket can become an attractive décor item, too.
If you want, you can also include two wine glasses. For a personal touch, consider having them monogrammed.
Movies and Snacks Gift Baskets
Newlyweds may appreciate a gift basket that makes a night in more fun. By going with a movies and snacks theme, you can ensure that a night at home is as entertaining as possible.
For the movies part, you have several options. Either a gift card for a streaming service or a retailer that offers digital movies for purchase (like Amazon through its Prime Video service) can work well. However, you can opt for a physical Blu-Ray if the couple has a player, too.
With the snacks, you can focus on the classics, including popcorn and seasoning. Adding in some movie theatre-style candy or the couple's favorite sweets rounds it out. In either case, making the basket a bowl that can hold popcorn is an excellent choice.
Honeymoon-Themed Gift Baskets
With a honeymoon-themed gift basket, you go with items that might be helpful for the couple's upcoming trip. For example, if they're heading to the beach, you can include sunscreen, sunglasses, beach towels, and similar items. A travel guide for their destination can also be a fun option, as well as gift cards to restaurants or attractions in the area.
The goal is to curate a collection of small items that could be useful during their travels. Consider their destination and how they're getting to the location, and let that be your guide.
Cocktail-Themed Gift Basket
If the couple has a favorite cocktail, you can create a gift basket that covers what they need to make it at home. For example, a margarita gift basket can include glasses, salt for the rim, a bottle of mixer, limes, tequila, and a small book that outlines a variety of margarita recipes.
Most cocktails don't require a large number of ingredients, so you can put together a lovely basket with relative ease. Plus, a basic set of glasses designed for specific cocktails are often affordable, so this option won't break the bank.
Shared Hobby Gift Basket
If the newlyweds have a hobby in common (or both want to explore a new one together), a hobby-themed gift basket can be a great choice. You can provide them with basic supplies and a gift certificate for lessons if they're just getting started. If they have more experience, go with items that are nice to have but that many hobbyists don't invest in initially.
The benefit of this newlyweds gift basket idea is that you're creating an opportunity for them to spend time together doing something fun. Plus, it's highly personal, as you're speaking directly to their interests.
If you aren't sure what they need, you can have a few items and include a gift card to an appropriate hobby store, too. That allows you to set the theme without having to know everything about the equipment or materials they already own.
Do you know of any other newlywed gift baskets people should know about? Did you give or receive an amazing gift basket for newlyweds and want to tell others about your experience? Share your thoughts in the comments below.
Read More: