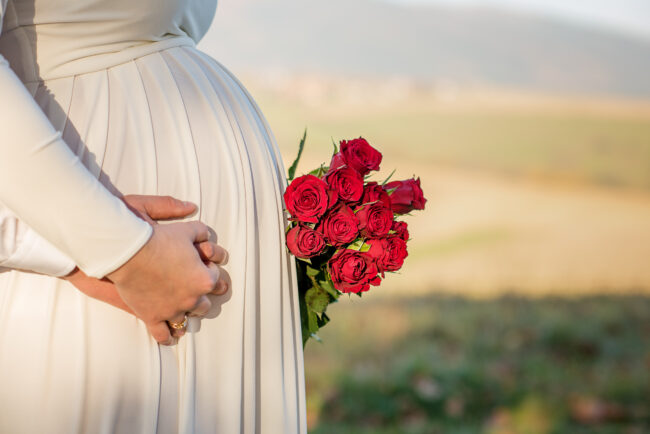 Planning for a wedding is often challenging, but it's even harder if you have a baby on the way. There are a lot of costs that come with pregnancy and preparing for a new arrival, which can shrink your wedding budget. Fortunately, you can have a pregnant wedding without breaking the bank. Here are some tips.
Limit the Guest List
The easiest way to reduce your wedding costs is to limit the guest list. If you keep it incredibly small, you will spend far less on the ceremony and reception space, food and drinks, decorations, and more.
Plus, if you're open to a micro-wedding, you can potentially get low-cost, all-inclusive packages. With these, you won't have to worry about most of the planning, which could be a relief if you're trying to get ready for a new baby.
Choose a Forgiving Wedding Dress
When you're pregnant, your weight is going to change frequently. As a result, a wedding dress that fits well one day may be far too tight by the time your wedding arrives. If that occurs, you may have to spring for costly alterations or get an entirely new wedding dress if you start with the wrong design.
By opting for a forgiving wedding dress instead, you can reduce the need for adjustments or purchasing a new dress. For example, going with an empire waist and a flowy skirt could give you more room in the midsection. Adjustable corset bodices are also beneficial.
Pick the Right Date and Time
Opting to get married during the off-season and choosing a time that let's popular can save you money when planning a wedding. Weekdays usually cost less than weekends, and by a substantial sum. If you're also open to an afternoon wedding and reception, it may even be cheaper. While this can mean people would need to take time off of work to attend, if you're willing to accept that some may have to decline, it's worth considering.
Choose a Low- or No-Cost Venue
If you're having a small, intimate ceremony and reception, consider a low- or no-cost venue. A well-manicured backyard can be an excellent spot for a wedding. Local parks or beaches may allow you to reserve pavilions for far less than traditional venues. Smaller churches that also have banquet halls might be more affordable than other options, particularly if you're having the ceremony there and regularly attend services at that location.
Going with a courthouse wedding and having the reception at someone's home is another low-cost option. You could even follow up the ceremony with a meal at a local restaurant for the reception if the pricing makes sense.
Focus on Simplicity
If you're juggling planning for a wedding and the arrival of a baby, simplicity is your friend. Plus, it can help you keep your costs down, making it easier to stay on budget.
Avoiding elaborate details means you'll spend less on décor, entertainment, and food. You can also opt for e-invitations instead of paper ones, making them easier to send and keeping costs down.
Since you're pregnant, not supplying alcohol at your wedding is another option (and a big money-saver). You can also choose simple hors d'oeuves over a lavish sit-down meal, particularly if you aim for a mid-afternoon reception.
Ultimately, sticking to the basics and avoiding extras results in a cost-savings. Plus, it simplifies planning, which could give you more time to prepare for the arrival of your new baby.
Do you know of any other tips that can help couples plan a budget-friendly wedding while pregnant? Did you have a pregnant wedding and want to tell others about your experience? If you were pregnant during your wedding, do you wish you waited, or were you happy with your decision to have the ceremony then? Share your thoughts in the comments below.
Read More: