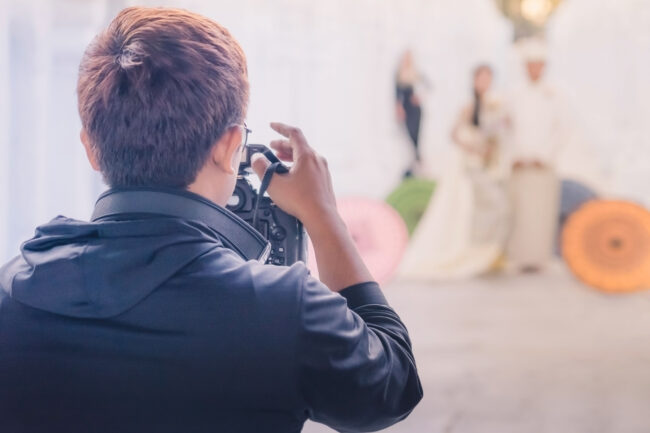 When planning a wedding, many couples hire professional photographers to take pictures of the ceremony and snap posed shots of the couple, their parents, and the wedding party. While wedding photographers often take photos of the reception, there's never a guarantee that they'll snag good images of all of the attendees. As a result, looking for cheap ways to get great pictures of wedding guests is common. If you need to keep the costs down, here are some options for getting photos of your wedding guests.
Have a Link for a Collection Website
Today, most people incidentally have a camera in their pocket, thanks to their smartphones. However, asking every guest to forward you pictures after your wedding is cumbersome. Fortunately, by having a link available to a suitable collection website – such as DropBox or Google Photos – you can make it easy for guests to share their best images of each other.
You can print out cards to place on reception tables outlining your request for guest photos and the link for uploading. You may want to include simple instructions for less tech-savvy guests, too. Just keep in mind these options don't come with built-in organization, so you'll have to sort through all of the submissions at a later date.
Place Disposable Cameras on Reception Tables
Placing a few disposable cameras on reception tables with a simple written request for guests to take photographs of each other is often pretty effective. Since you're asking for pictures, you might increase your odds of guests participating. Plus, using a physical camera can feel a bit novel in these modern times, making it fun.
Another benefit is guests aren't editing the photos, which is something that may occur if you go with the smartphone-based option instead. As a result, the pictures are genuine, unoptimized representations of your guests when you receive them. Plus, there are sites that let you digitize the film, giving you the option to have them edited if you so choose.
Pick a Hashtag for Social Media
Having a hashtag associated with your wedding can make it easy to find photos your guests post on the site. As long as they use the requested hashtag, you can search for it and see every published image. Since the hashtag is the key, make sure to display it on a card at each reception table, along with a request that guests use it when posting images.
One of the main challenges here is that guests may over-edit photos. Additionally, you have no control over what's publicly published. Using these images for printing may be less than ideal, too, as the image quality isn't always as high on social media as it is with the actual photo. There's also a risk that your chosen hashtag will get used by others, so keep that in mind.
The hashtag route may not work well for less tech-savvy guests or any attendees that don't use social media for personal reasons. As a result, not everyone may participate or choose to post any images they capture.
Have a Photo Booth
Photo booths are a simple way to capture images of attendees. While you can rent an enclosed option, you also have the ability to create one in the open. Choose a backdrop and set up a camera, tablet, or smartphone at the proper distance, and connect a remote to let guests position themselves and take the picture without needing another person to manage the camera.
By using a smartphone or tablet, you can even have images uploaded to the cloud immediately, ensuring you'll always get a copy. Just make sure it has a high-quality camera for the best pictures.
The primary drawback here is that every photo is posed. If you're looking for casual shots of your event, you'll need to couple this with another option. There's also a risk that the camera, smartphone, or tablet will get moved, damaged, or even stolen, so don't use your main device.
Hire a Photography Student
While professional wedding photographers are often expensive due to their experience level and expertise, hiring a photography student for your reception to photograph guests may not be a budget buster. Students have less experience and might not have comprehensive portfolios, so they may charge less than their well-established counterparts.
With this option, the main risk is that the quality of the results may vary. There's a decent chance a student doesn't have sample images from other events for you to review before making a decision, so that leads to some uncertainty. However, they likely have some pictures you can check out in advance, letting you learn about their style and whether it may match your wedding.
If you do go this route, understand that "exposure" or the ability to build a portfolio isn't enough compensation. Paying an appropriate rate based on their skill level is essential. As a result, this won't work if your goal is to spend nothing.
Request Assistance from a Guest
If there's an amateur photographer among your guests, you could request their assistance with getting pictures of wedding guests during the event. However, you have to approach this option the right way.
In most cases, you'll need to give them ample flexibility. Requesting specific shots or a minimum number of images is appropriate if you're hiring a professional, but it might be too much for an amateur, particularly if they don't have experience with event photography.
Taking photos also means they won't get to relax and celebrate like other attendees during the reception (either all or part of it), so it is a sacrifice. As a result, you may need to offer compensation or request photos for a limited period in lieu of a gift.
Additionally, if the guest declines, accept their answer. They may worry they won't do your event justice or have another legitimate reason that makes them uncomfortable with the idea. Don't force the idea. Instead, if they decline, thank them for considering it, and move on to another option.
Can you think of any other cheap ways to get great pictures of wedding guests couples should consider? Did you use a low-cost method for getting great photos of wedding guests and want to discuss your experience? Did you opt for a more expensive approach and want others to know why? Share your thoughts in the comments below.
Read More: