We have big plans for our finances in 2012. I even emailed Eric the other day and wrote: "I'm going to make 2012 my financial b*tch."
It's a lot easier to think big when you know you'll have two incomes for the entire year. It's time to get serious.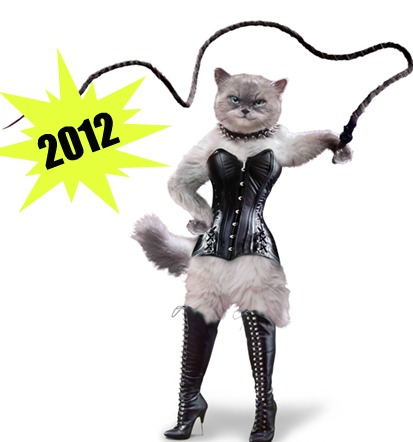 Where our Finances stand
As of Dec. 29th–the last day of our 2011 fiscal year–this is where our finances stood:
Emergency Fund: $1,000.00
Travel Fund (aka Side Hustle Income): $1,576.68
Bentley Savings: $1
Car Insurance, Registration Savings: $1
Gifts Savings: $1
Christmas Savings: $1
Roth IRA: $0
I opened those last 5 accounts just last week to help us save each month for long-term expenses. (FYI–Bentley is our dog, not some flashy car we're saving for).
Seeing our emergency fund go from $8,000+ to $1,000 has been hard. Granted, I did pay off my car but I'm ready to be a two-income family again.
Savings Plan
This is what I plan to contribute toward our savings accounts every month:
Emergency Fund: $500 (beginning April 1)
Travel Fund: ALL Side Hustle Income
Bentley: $50
Car Insurance, Registration: $200
Gifts: $50
Christmas: $75
Roth IRA (Erika): $100
Roth IRA (Eric): $100
TOTAL SAVINGS: $1075
By the end of the year, I would like our finances to look like this:
Emergency Fund: $5,000
Travel Fund: $5,000 total contributions minus whatever was spent on actual traveling
Bentley: $600 in contributions
Car Insurance, Registration: $2,400 in contributions
Gifts: $600
Christmas: $900
Roth IRA (Erika): $1200
Roth IRA (Eric): $1200
My hope is to continue to double our Roth contributions year over year until we max them out.
The Debt
Erika Amex: $285.67
Citi Card: $2,128.41
Student Loan #1: $9,101.51
Student Loan #2: $11,432.70
Student Loan #3: $2,050.00
So apparently there is a third student loan (0% interest) that I completely forgot about it until I was sent a bill in the mail. Great.
Debt Repayment Plan
The Citi Card is 0% interest until April 1, so we need to pay it off by then. I am holding off on Emergency Fund contributions until this card is paid off.
Debt Goals
Erika Amex Paid off by Jan. 31 Done, I paid it off last week!
Citi Card Paid Off by March 31
Student Loans under $19,000 by the end of the year
Managing the budget
I created a budget template to track all our finances this year. Unlike last year when the budget was based on months, this year our budget is based on paycheck cycles, which makes sense, right?
How we plan to take control of our finances
We plan to continue to live off my income and use Eric's salary mostly for savings and debt repayment. Eric is getting paid on Monday–his first paycheck since August 2011!! To say I am thrilled, would be a major understatement. I have already allocated his entire paycheck to try and get us out of the red.
If we plan to save and pay off loans, this also means that we may need to push back our hope of moving out of the shack, which will easily increase our living expenses by at least $500 at the bare minimum. This is something we will need to re-evaluate as the year goes on.
How do you plan on taking control of your finances in 2012?
image via