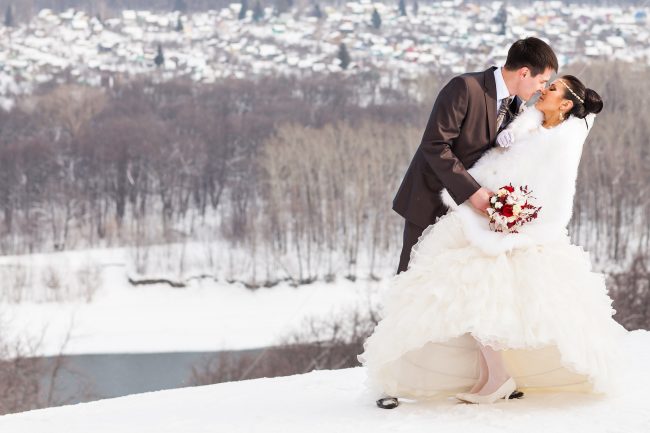 Designing the perfect winter wedding is a common goal for couples during the latter part of the year. However, when you're dealing with a tight budget, figuring out how to pull it off can seem like a challenge. Your expenses can add up surprisingly fast, causing you to surpass your initial budget quicker than you'd hoped. Luckily, it is possible to avoid that. If you need to plan the perfect winter wedding on a budget, here are some tips that can help.
Choose a Venue That Already Has Festive Touches
One of the easiest ways to keep your costs down is to select a venue that already has festive, seasonal touches. Many locations decorate for the winter holidays. By choosing a venue that's brimming with seasonal décor, you can spend far less on decorations yourself.
If you aren't sure where to look, you may want to start with churches. Many of them add holiday favorites like poinsettias and lights for Christmas. As a result, you might not need to spend any money decorating the church.
Other venues can be in the same category. Hotels and community centers might have some décor in place. Places like aquariums, zoos, or museums may, as well. The same goes for local parks.
If you have a family member with a larger yard and a sizeable property that enjoys decorating for the holidays, asking to hold the wedding at their house could accomplish a similar goal. Just be aware that is a big ask during this time of year, so don't be upset if they decline.
Go with a Mid-Week Winter Wedding
One of the harder parts of scheduling a wedding near the holidays is venue availability. Many locations aren't just hosting weddings this time of year. There can be year-end company celebrations, family reunions, and many more large-scale affairs happening, too.
Since many people prefer to have gatherings on weekends, choosing a mid-week date for your  winter wedding on a budget and things could work in your favor. When there's less demand, costs tend to go down. As a result, you might be able to get a great location for much less than if you chose a weekend date.
Limit Your Guest List and Wedding Party
If you're looking for one of the simplest ways to keep your wedding on a budget, limiting your guest list is it. With fewer people in attendance, even a smaller venue may feel comfortable. Plus, you'll spend less on food, drinks, favors, invitations, table décor, and more.
Similarly, having fewer wedding party members may save you quite a bit. If you were planning to subsidize or completely handle the wedding party's attire, fewer people mean lower costs. You may also be able to reduce the number of flowers you'll need, which can make a difference.
Consider making your wedding an intimate affair by keeping the guest list and wedding party small. If you stick with just your closest friends and family, you may find that staying on budget isn't as difficult as it initially seemed.
Go with Seasonal Décor and Flowers
Decorations and flowers can get expensive quickly, especially if you are looking for items that aren't in season. If you want to keep your costs in check, stick with décor and flowers that are readily available this time of year.
String lights can be incredibly versatile, allowing you to decorate arches, walls, ceilings, and even tables. Ornaments are another flexible décor item, especially since they're available in a wide array of colors, including classic metals like gold and silver. Even pine cones could be a nice addition, as well as fresh boughs from a cedar tree.
When it comes to flowers, by going with poinsettias, you can create centerpieces with ease. However, if you prefer something different, that's okay. Options like amaryllis, sweet peas, camellias, carnations, and anemones – just to name a few – are in season, too. Just speak with a florist to see what they can get easily around your wedding date, and they can point you in the right direction.
Do you have any other tips that can help someone plan the perfect winter wedding on a budget? Share your thoughts in the comments below.
Read More: