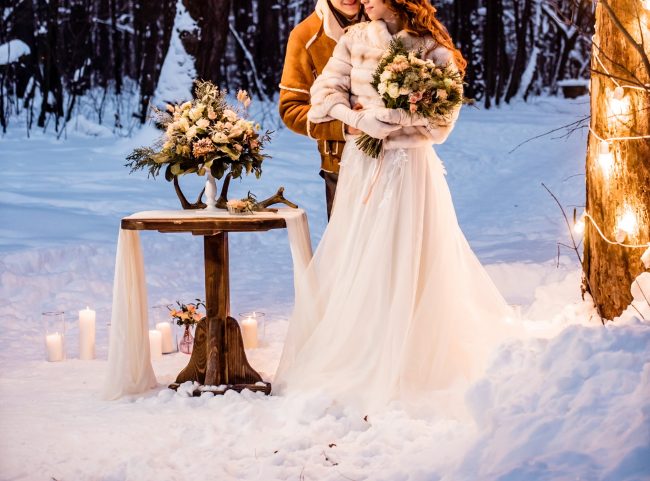 Many couples find the idea of a Christmas-themed wedding too enticing to ignore. However, if they only have a budget of $10,000, they may worry that pulling it off isn't possible. Luckily, you can have a fabulous holiday for less if you use the right approach. Here are some tips that can help you pull off a Christmas-themed wedding on $10k (or less).
Use Sales to Your Advantage
One benefit of having a wedding around Christmas time is that you may be able to take advantage of various sales. If you're reasonably flexible about décor, wedding favors, and even wedding party attire, you may be able to stick to a lower budget and get everything you need.
While you may find the best deals on Black Friday, that isn't the only sale option available. Cyber Monday is similarly deal-laden. Additionally, Small Business Saturday can be a great opportunity.
Just make sure that you're careful if you're shopping online. Shipping timelines can change during busy periods, causing items to arrive later than they would during other times of the year. Make sure you review shipping estimates before you purchase, increasing the odds that your purchases will come when you need them.
Choose the Right Venues
Planning a Christmas-themed wedding can actually work to your advantage if you pick the right venues. Many places decorate for the holidays, adding seasonal touches to their décor.
If you want to reduce how much you'll spend decorating spaces for your wedding, choosing specific kinds of venues can help. For example, many churches bring in poinsettias during the holiday season, eliminating the need for flowers on your wedding day. Hotels might have seasonal décor available, and they might be able to add some to your reception space – either for free or for a small fee – if you ask.
Many outdoor spaces also add Christmas lights. If you're open to an outdoor ceremony or reception or can choose a location with windows facing a decorated area, you might be able to avoid some decorating costs.
Stick with Christmas Colors
Since you're going for a Christmas-themed wedding, using traditional holiday colors is likely part of the plan. However, the theme isn't the only reason this is a good idea. By sticking with colors like red, green, silver, and gold, you'll have an easier time finding coordinating items for your décor, attire, and more.
Green, red, gold, and silver napkins, tablecloths, ribbon, clothing, and more are far more available during the holidays. As a result, you'll have an easier time comparison shopping for items that meet your needs, making it easier to get them for less.
Go with Seasonal Décor and Flowers
If you need to decorate your own space and purchase your own flowers, stick with seasonal options. Poinsettias are widely available this time of year and tend to be reasonably affordable. As a result, they can make excellent additions to bouquets, centerpieces, and more. Christmas lights and single-color ball ornaments are also very low-cost but can have a big impact.
You can also take advantage of nature. For example, sprigs from cedar trees or pinecones can feel seasonally appropriate and might be available for free.
In some cases, decorating with Christmas trees might even be an option. You can use them as backdrops for key reception areas, adding some lights and a simple banner featuring the couple's initials or names.
Have a Christmas-Inspired Menu
Certain foods are staples during Christmas. As a result, many grocers have more of those meal items, and they may offer them at a discount as a way of luring in shoppers.
By opting for a Christmas-inspired menu instead of curating your own, you might be able to save on catering. For example, ham usually goes on sale during the holidays. If you make that a core part of your entrées, you may spend less than if you choose something less seasonally traditional.
Bypass an Open Bar for a Selection of Seasonal Classics
Often, including an open bar at your wedding can cost a bundle. If you want to keep this cost down, consider skipping the open bar and offering up a selection of seasonal classics instead.
Hot apple cider or mulled wine can be great choices. Since they are heated, it lets guests experience something warm and toasty. Plus, you can use lower-cost alcohol since there are other flavors involved, allowing you to keep everything in budget.
Do you have any other tips that can help couples pull off a Christmas-themed wedding on $10k? Share your thoughts in the comments below.
By the way, if you want to learn about Couples Financial Management (like paying off debt, saving for a downpayment on a house, investing in retirement, etc.), join this one-of-a-kind online training by Beyond Millions.
Read More: