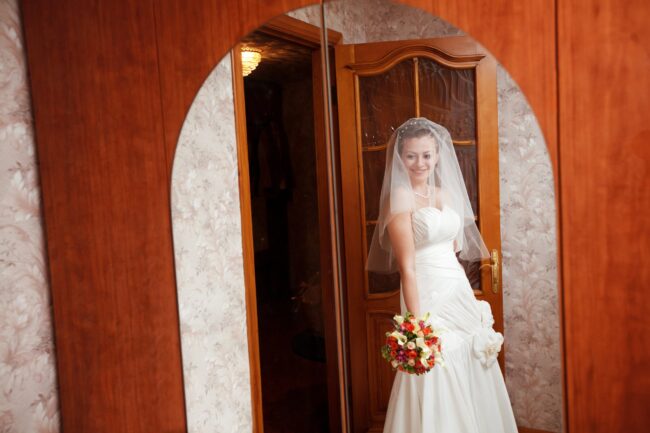 Hosting your wedding at home can be an excellent option for budget-conscious couples. It allows you to completely sidestep the cost of a venue. Plus, the setting is incredibly personal, which many couples may appreciate, and can be incredibly special. Since it's your space, you have the ability to set it up nearly any way you'd like. If you want to have an exceptional wedding day, here are five at-home wedding ideas on a budget that are worth using.
1. Embrace Hyper-Personalization for Guests
In most cases, at-home weddings are smaller affairs. Since the setting is intimate and the guest list is pared down, seize the opportunity to make each guest feel even more special.
For example, you could expand on the place cards, listing the person's name, their relationship to the couple, and your favorite aspect of their personality. You could even skip traditional place cards altogether and instead print out a phone of each guest that you've collected over time.
When you send out invitations, you could ask each guest for a song request to add to the playlist. Another fun option is requesting a photo they love of the guest with one or both members of the couple and adding it to a photomontage video.
For particularly intimate, small weddings, you could even ask each guest to take part in the ceremony. For instance, you could request that they each read a short poem that's meaningful to your and your soon-to-be spouse, or even have each one recite a single line from a larger piece.
2. Create a Map for Guests
If your wedding and reception are limited to a backyard, or you have an open floor plan and are only using that space, then this might not be necessary. However, if you're using several rooms of your home for the event, creating a map of your home and outlining where key elements are isn't a bad idea. It prevents guests from having to ask others where drinks and hors d'oeuvres are located. Plus, it ensures that guests who haven't spent much time in your home know where they put their coats, how to find bathrooms, and more.
You can even use the map to highlight some unique spots. For example, if a part of your backyard is an especially beautiful backdrop for photos, you could steer guests there so that they can take advantage of the location.
Essentially, the map can direct people to the right spots throughout the event. Ultimately, this can save the couple a significant amount of trouble, as they won't have to spend a lot of time steering people toward the right spots.
3. Make Use of Your Kitchen
Since you're having your wedding at home, you'll have access to your own kitchen. While this doesn't mean that the couple has to cook everyone a meal, it does create opportunities to reduce the cost of food and drinks.
Plus, if you, your soon-to-be spouse, or any guests have food allergies or restrictions, making the food in-house could be ideal. You're in full control of the environment and ingredients, which can help you avoid food-related mishaps.
If you want to keep your expenses low, look for budget-friendly hors d'oeuvres recipes that you can prepare in advance. Anything that's chilled in a fridge or able to sit out on a counter can work, as you can prep it the night before and have it ready for your big day.
In many cases, certain foods that you'd serve warm can also be prepped in advance. You can handle everything up to the heating step and finish that the next day. Often, this works best for baked items, as simply placing the dish in the oven and removing it at the right time is usually all it takes.
You can also prepare drinks in dispensing containers in advance. This approach is ideal for options like iced tea or lemonade but can work for certain cocktails, too. For example, sangria in the fridge will typically be fine overnight, and you can always wait to add the fresh fruit until right before the ceremony to ensure it looks its best.
4. Add a Fun Entertainment Option
If you're looking for at-home wedding ideas on a budget, you might assume that bringing in entertainment isn't an option. However, you have more entertainment options at your disposal than you may expect, and many aren't as costly as you'd expect. Since that's the case, one of the best approaches you can take to make the event memorable is secure some entertainment.
Along with music for dancing, consider introducing a quirky or unexpected element. For instance, if you're having the reception in the backyard and there's sufficient space, you could invite in a fire dancer to put on a short show. You could bring in a bouncy castle if you're a couple that's young at heart, too.
For indoor receptions, you could get a caricature artist for the reception. Another option is to hire a tarot card reader to give guests glimpses into the future.
Regardless of the kind of entertainment you choose, going with something out of the ordinary can make your wedding particularly memorable. Plus, it can serve as a conversation starter, too, giving guests more to chat about during their stay.
5. Hire the Right Help
When you're searching for at-home wedding ideas on a budget, you might assume that hiring help isn't a wise financial move. However, trying to do it all yourselves while also participating in your wedding and reception isn't always practical. Since you deserve to enjoy your big day, strategically hiring help is an excellent decision.
One option that many couples appreciate is hiring a clean-up crew. It allows you to enjoy your wedding and reception without worrying about cleaning up after the fact. Plus, if you're planning on going on a honeymoon soon after the event, it prevents cleaning from negatively impacting your schedule.
If you want to have a sit-down meal, hiring a caterer or chef can be worthwhile. While it's one thing to prep your own hors d'oeuvres, creating a full-blown meal for everyone isn't the same. As a result, this isn't a bad place to spend a little cash. If you have a larger group, then the caterer may be your best choice.
However, if it's a small, intimate wedding with a limited guest list, bringing in a personal chef instead could be an excellent alternative. They may be able to accommodate specific guest preferences (such as the doneness of steaks), making the meal even nicer.
Another option you may want to consider is a parking attendant. One of the biggest challenges of at-home weddings is handling parking. If you need everyone to follow a specific plan to ensure everyone can find a spot and you aren't bothering neighbors or violating local regulations, using a parking attendant can make that easier. You can simply inform them of the plan, and they'll take care of the rest.
Do you have any other at-home wedding ideas that work on a budget? Have you used any of the options above and want to discuss your experience? Share your thoughts in the comments below.
Read More: