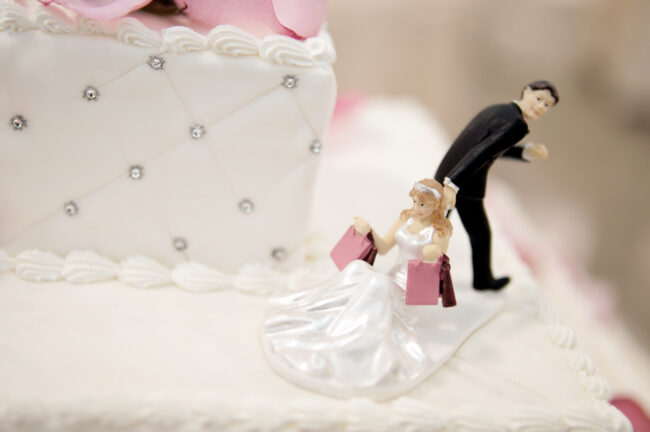 Not all couples want overly traditional – or particularly serious – wedding cake toppers for their upcoming reception. Fortunately, there are plenty of unconventional and quirky options available that are sure to make you smile. If you'd like to have an amusing – yet still appropriate – detail on your wedding cake, here are five funny wedding cake toppers that are worth considering.
1. Achievement Unlocked Cake Topper
For gamer couples, this Achievement Unlocked cake topper is a quirky option. The design features a bride and groom silhouette with a heart on either side, but it uses a style similar to old 8-bit graphics, giving it a pixelated look.
Beneath the couple is "Achievement Unlocked Got Married." That pays homage to classic achievement unlocks found in older and modern video games, making it a fun option for couples that enjoy gaming of any type. The cake topper is also a reasonable size, and it's reusable. As a result, you can clean it off after the wedding and make it a keepsake.
2. May the Force Be with Us Cake Topper
For Star Wars fans, adding a little sci-fi magic to their wedding without going overboard could be a fun option. This May the Force Be with Us cake topper does just that. Along with the saying, it features silhouettes of a bride and groom, one carrying a lightsaber and the other holding a blaster.
The look is still relatively formal, too. The design is in a simple black finish, so it works well with any color scheme and doesn't feel too over the top. It's also fairly sizeable, allowing it to work on 6-to-10-inch cakes. Since the material is acrylic, this cake topper can also become a keepsake, as it's easy to clean and use for other purposes.
3. Dinosaur Cake Topper
For some couples, having a traditional-looking bride and groom on the top of their wedding cake doesn't feel like the right fit. If you want something a bit more whimsical, this dinosaur cake topper couple might be right up your alley.
It features two T-Rex figures. One is dressed as a groom with a tiny top hat and collar with a bowtie. The other is outfitted as the bride, complete with a veil, pearls, and a lace garter. It's a quirky alternative to a more traditional display.
With this option, couples that are fans of DIY may be able to recreate this cake topper, too. For some, that could be a more affordable alternative. Plus, it could allow you to choose dinosaurs other than T-Rexes if you prefer, or you could find dinosaur figures in different sizes, allowing you to select ones that fit your cake best.
4. Mobster Vibes Cake Topper
With this cake topper, you get clear mobster vibes, or a Bonnie and Clyde feel. It's a fun way to show that you're on this journey together, no matter where it takes you. Plus, it could be particularly appropriate for a 1920s or 1930s-themed event.
The cutout, silhouetted look makes the design clear while keeping the cake topper relatively simple. The material is also durable, allowing it to serve as a keepsake. For example, you could put the cake topper in the soil of a houseplant after your wedding, allowing you to continue displaying it.
5. High-Five Cake Topper
Another alternative to more traditional bride and groom figures is this high-five cake topper. The bride and groom both have a hand up, allowing you to position them to make it look like they're celebrating their marriage with a crisp high-five.
Plus, the bride and groom are customizable. You can choose a hair color that most closely matches your hair, making them feel a bit more like you.
Ultimately, this one is simply a cute, amusing alternative to something more traditional, but it's still formal-looking enough to seem appropriate in nearly any setting. As a result, brides and grooms that prefer something slightly unconventional may feel this cake topper is the perfect fit.
Do you think funny wedding cake toppers are a good idea, or do you feel they aren't appropriate? Did you have a funny wedding cake topper on your cake and want to tell others how it was received by family members or guests? Share your thoughts in the comments below.
Read More: