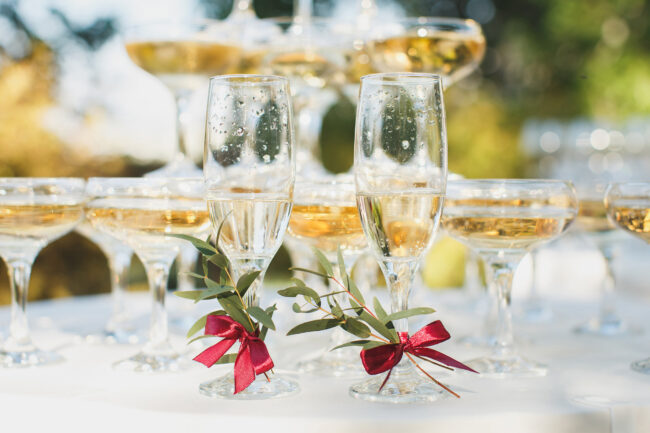 When you're planning a summer wedding, you may not realize that your color palette can impact your budget. The hues you choose impact the availability of critical items, such as décor, flowers, and bridesmaid dresses. By going with the right summer wedding colors of 2022, you make it easier to get what you need, potentially reducing the overall cost. Here are a handful of summer wedding colors that can save you money.
Pink
Numerous shades of pink are trendy during the summer. Pastels have a sense of lightness, which can work quite well with beachy or romantic weddings. Fuchsias add a bit of vibrance, making it perfect for energetic affairs.
The reason pink can save you money if multifold. First, many flowers that naturally bloom during the warmer months come in shades of pink. Second, you'll rarely have trouble finding décor, as pink isn't just popular for weddings; it's a favorite for girls' birthdays, too. Since that's the case, many party supply stores consistently stock pink items, giving you a broader selection and more access to discounts.
Blue
Like pink, blue is a popular summer color that's low-cost because it's a favorite for boys' birthdays. You'll have a broader selection of décor items in stock simply because they're in demand all year.
Blue also acts as a neutral in many cases, allowing it to pair well with many in-season floral colors. If you choose hues that mimic the summer sky, it adds that sense of vibrance. If you're looking for something sophisticated, both navy and slate blues can work well.
Champagne
If you prefer neutrals, going with a shade like champagne for a summer wedding can be an excellent choice. It pairs well with greenery, creating a very look that mimics nature. Plus, you can go with essentially any shade of flower, allowing you to choose in-season blooms to keep the cost down.
When it comes to décor, champagne is always a popular color. If you're renting or buying linens, you won't have any issue finding options in champagne. It's typically simple to find bridesmaid dresses in the shade as well, which could help you find more competitive pricing.
Yellow
For anyone who wants to embrace the summer sun in their color choices, going with yellow can work well. Many seasonal flowers are available in yellow, making it an easy option if you want to keep costs down. Whether you prefer classics like roses or the relaxed look of daisies, you can get a nice dose of yellow.
Plus, yellow is popular enough this time of year that you can usually find décor items in suitable shades with relative ease. It also pairs well with a range of neutrals, allowing you to adjust the feel of your wedding with ease.
Do you know of any other ways that the summer wedding colors of 2022 can help couples save money? Did you choose one of the summer wedding colors above to plan a more budget-friendly event and want to tell others about your experience? Share your thoughts in the comments below.
Read More: