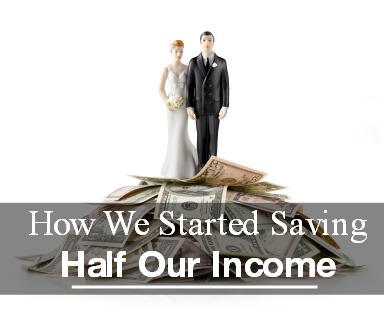 I had heard of the concept to save half your income when Eric and I were in serious debt, and I always seemed to roll my eyes.
Because let's be honest: those people either made serious dough or were living like peasants.
So I continued to glaze over those posts that made it sound like it was even in the realm of possibility that someone could save half their income unless they were eating ramen 3 meals a day or had the funds to make it rain at da club.
It's just not possible, right? Right?!
Until, of course, it happened to us.
Saving Half Our Income
For the past three months, Eric and I have consistently been able to save 50% of our after-tax income.
At first, I didn't really believe it, I just noticed that we were able to save a lot more than in the past.
But sure enough, every month—between our house down payment fund, Christmas fund, and retirement savings—we've been putting away half our income.
In May, we saved 56% of our household income alone, meaning not even including our retirement savings. It helped that May was a three-paycheck month, but still, it was an impressive feat.
So how did we get here?
We Paid Off Our Debt First
You can bet 100% that if we had $45,000 in debt still lying around, there's no way we would have been able to accomplish this milestone.
In January, we finally paid off the last of our debt thanks in large part to the $20,000 I made online last year.
It was hard—SO HARD—to watch all our hard-earned money go toward debt rather than savings, but I knew that eventually we'd be rid of it, and all our money would finally really be ours.
We Made More Money
At the same time that we paid off our debt, we started making more money.
I received a raise in December, and Eric started his firefighter job in January (after 40 months of trying to become a firefighter in southern California!).
We saw our income increase about 33% within a few short months.
It was tempting to go crazy and start ordering $10,000 diamond martinis, but we said nah, that's not our style.
Instead, we decided that the money that had previously gone toward debt would now go straight to savings.
We Paid Ourselves First
Instead of waiting til the end of the month to figure out how much money we would have left over that we could put into savings, we decided to pay ourselves first.
That means that we figured out how much money we needed to pay our bills and live comfortably (restaurants, gifts, spending money, clothing etc).
Because even though we wanted to save as much as possible for our house, we were also freakin' tired of living by the budget (love shack, anyone?) and heck, we wanted to live it up a little.
I was able to configure my direct deposit through work so that a certain percentage would go straight into our savings account first in an online bank, and the rest would go into our checking account.
We have separate checking (Bank of America) and savings accounts (Capital One 360) because it helps us to keep that money separate so we're not tempted into spending it.
Capital One 360 also offers us 0.75% interest rate as opposed to BofA's paltry .05%. Every bit helps when you're saving for a house!
We Lived off the Same Amount of Money
Despite the increase in our income, Eric and I haven't gone overboard with lifestyle inflation.
It's tempting.
It's really, really tempting.
But for the most part, we stick to a budget that we're comfortable with and that allows us to indulge in certain things every now and then:
Like buying a new fridge because ours broke.
Or splurging for floor seats for Jay-Z and Beyonce's On the Run tour.
Heck, we even went to Cabo with money that was budgeted for in our Travel budget, and we used credit card reward points to pay for a good chunk of it!
So instead of spending all that extra money we bring in, we put the majority of it into savings.
Including anything extra.
Overtime? Savings. Tax refund? Savings. Rebates? Savings.
Any penny that comes in that is not part of our regular income goes straight into savings.
How to Save Half Your Income
So if you're wondering what the secret is to saving half your income, this is what we did:
We paid off our debt first
We made more money
We pay ourselves first
We live off the same amount as money as before
I was too busy before making excuses as to why we would never be able to save half our income. And now, I realize that we were on that path all along.
Do you think you could ever save half your income?