Well, we did it.
We met our goal to save $30k in 2014 five months early.
INSANE.




How does this happen? Because even now, I am having a hard time wrapping my head around it.
Here is how our savings has grown over the past seven months: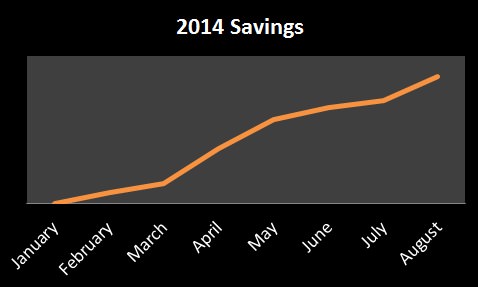 We seriously started 2014 with $2.36 in our savings account–after we had raided our accounts to pay off the last of our $45k debt.

Even though the graph doesn't show it, we actually took a huge hit between March and April because we had to pay our $4k+ tax bill.
But then May was a three-paycheck month, which helped propel us into saving half our income.
And even though we've been living the DINK lifestyle (Cabo, anyone?), and our spending has increased, we've still been heavily focused on saving for our ultimate goal of buying our own house.
What's even better is that this money does not include money we've been saving for other things. We still have savings accounts for Christmas, Car Insurance + Car Repairs, Graduate School, etc. This is how our savings accounts are labeled: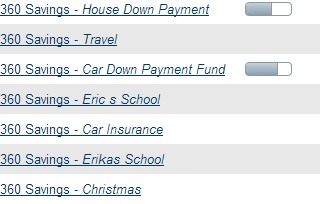 One of the things I love about Capital One 360 (referral link) is that you can set savings goals and the bars show you how far along you are. New customers also get a $20 bonus for signing up!
How We Save a Lot of Money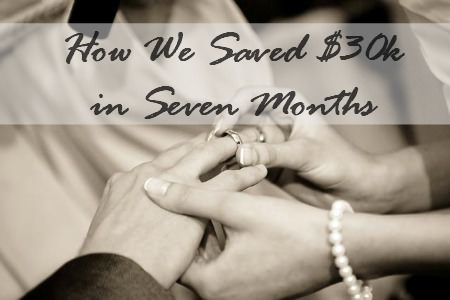 It seems that when people start making money, all people want to do is tear them down. Out of jealousy, out of spite, out of reason that perhaps it makes you feel bad about yourself that you're not doing as well as they are.
But you know what?
Eric and I paid our dues.
We've been broke. For the first 45 months of marriage, we were paying $1,000 a month toward debt. After six months of marriage and drowning in our finances, we downsized from a one-bedroom apartment to a shack to save money (it seriously was a guesthouse studio in someone's backyard).
We didn't go on a honeymoon for 2.5 years until after we were married because we couldn't afford it.
For the past three years, I've been freelancing an average of 20 hours a week to make money, plus working my full-time job, and since March 2013, I've been going to school full-time too.
Saving a lot of money? It didn't happen overnight.
We've worked our butts off to get here.
And finally–finally–after struggling through Eric's fire academy (no pay for four months), his back injury (no pay for six weeks), and dealing with crappy pay as an EMT, he finally landed his dream job as a firefighter for a department just 20 minutes from where we live.
I wasn't lying when I wrote that him getting his firefighter job was the biggest moment of our lives. It's been the main reason we've been able to save so much this year.
So how did we save a lot of money? The secret formula:
We paid off all our debt
We made more money
We kept living on a budget –no fancy cars or trips to Europe for this couple
We saved $30k–now what?
Now that we've met our $30k savings goal for 2014, we're pushing ourselves even more. Our new goal is to save $50k by the end of the year. 
That's insane, right? Why $50k?
Well, we've been hell bent on becoming homeowners, and after talking to a bank, we found out that we could forgo the FHA loan (I am not a fan of FHA loans) and apply for a conventional loan with just 10% down.
And since we live in southern California, we need at least $50k to be in the running for 10% on a $500,000 starter home (yes, I said starter home, that's just reality for the area that we want to live in).
There are only 10 paydays left in 2014, and we have a few small trips planned. And what if an actual real emergency happens?
It's going to be tight but it wouldn't be a goal if we weren't pushing ourselves, right? Wish us luck!